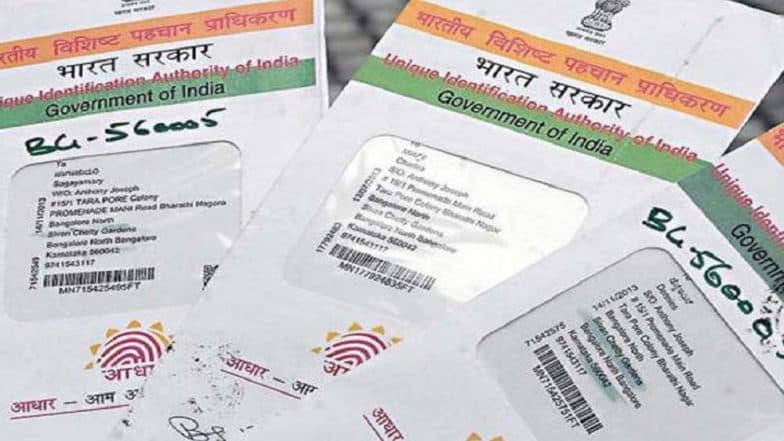 New Delhi, September 26: The Supreme Court on Wednesday upheld the Constitutional Validity of the Aadhaar Act and struck down certain sections, saying "It's better to be unique than to be best." There were three verdicts drafted by a five-judge constitution bench headed by Chief Justice Dipak Misra. The bench included Justices AK Sikri, AM Khanwilkar, DY Chandrachud and Ashok Bhushan. While Justice Sikri, CJI Misra and Justice Khanwilkar held one view, Justice Chandrachud dissented and Justice Bhushan didn't agree to three points in the majority verdict. Aadhaar Verdict by Supreme Court: As it happened.
The court struck down Section 33(2) of the Aadhaar Act. Section 57 of Aadhaar Act, which enables body corporates to seek authentication is unconstitutional, the Supreme Court verdict said. "Benefits and services under Section 7 should be of the nature of welfare schemes targeted at a particular deprived community," the court said, adding that the CBSE NEET etc cannot mandate Aadhaar and that it also cannot be made compulsory in schools.
Another important point made by the court was that bank accounts did not need to be linked with Aadhaar and that corporates had no right to ask for your UIDAI number. The court upheld Section 139AA mandating linkage with PAN, adding it was a must for Income Tax returns. Aadhaar Linking With Bank Account and Mobile Number Not Mandatory, Must For PAN, Rules Supreme Court.
Judgment Drafted by Justice Sikri, CJI Dipak Misra and Justice Khanwilkar
Justice Sikri, in his 40-page judgment authored on behalf of himself, CJI Dipak Misra and Justice AM Khanwilkar, said that Aadhaar had become the most talked about expression in the recent years. He questioned whether Aadhaar violates privacy. "Aadhaar performs authentication role. Aadhaar number given to a person is unique and cannot go to any other person," he said. Highlights of Aadhaar Verdict
He noted that the attack on Aadhaar by petitioners is based on the violation of rights under Part III of the Constitution and will lead us to become a surveillance State.  Talking about Right to Privacy, Justice Sikri in his verdict said that the state can make reasonable restrictions to rights, adding that there were "sufficient safeguards in the Aadhaar structure." Full Text of Aadhaar verdict.
The verdict, however, said that there was no possibility of obtaining a duplicate Aadhaar card. "The unique identification proof also empowers and gives identity to marginalised sections of the society," the verdict said.
Turning down the argument on exclusion, the court said, "Lot of people who will benefit due to inclusion cannot be denied due to exclusion of few. Can't throw baby out with bathwater."
Judgment Drafted by Justice Chandrachud
The verdict drafted by Justice Chandrachud was in contrast with the majority judgment and struck down Aadhaar. Justice Chandrachud said that the passing of the Aadhaar Act as Money bill was a "fraud on the Constitution," adding that it does not qualify and violates the basic structure.
Calling it a violation of Right to Privacy, Justice Chandrachud said, "Constitutional guarantees cannot be left to risks posed by technological advancements." He added that allowing private players to use Aadhaar would lead to profiling, which could be used in ascertaining political views etc of citizens.
Judgment Drafted by Justice Ashok Bhushan
Jutsice Ashok Bhushan concurred with the majority judgment of Justice AK Sikri, but differed on three issues.
The Aadhaar Case
The Supreme Court had on May 10 reserved the verdict after a marathon hearing that went on for 38 days, spanning four-and-half months. As many as 31 petitions were filed in the matter. The petitioners included former High Court judge KS Puttaswamy, Magsaysay awardee Shanta Sinha, feminist researcher Kalyani Sen Menon, social activists Aruna Roy, Nikhil De, Nachiket Udupa and CPI leader Binoy Visman.
The Centre, the Unique Identificaiton Authority of India (UIDAI), the governments of Maharashtra and Gujarat and the Reserve Bank of India (RBI) had argued in favour of the Aadhaar (Targeted Delivery of Financial and Other Subsidies, Benefits And Services) Act, 2016. They were represented by the Attorney General, Additional Solicitor General Tushar Mehta, senior advocates Rakesh Dwivedi and Jayant Bhushan and lawyer Zoheb Hossain.
Senior lawyers, including Shyam Divan, Gopal Subramaniam, Kapil Sibal, P Chidambaram, Arvind Datar, KV Vishwanath, Anand Grover, Sajan Poovayya and a few others, had argued on behalf of the petitioners opposing the Aadhaar Scheme.
The counsel for one of the petitioners had termed Aadhaar as "an electronic leash" and said that the government could completely destroy an individual by "switching off" the 12-digit unique identifier number. The court had said that the government had misinterpreted its order and used it as a "tool" to make Aadhaar mandatory for mobile users.
The telecom department had earlier last week put the Aadhaar-based face authentication on hold pending the Supreme Court judgment on the petitions challenging the issuance of new mobile connections and re-verification through the use of the unique identity.