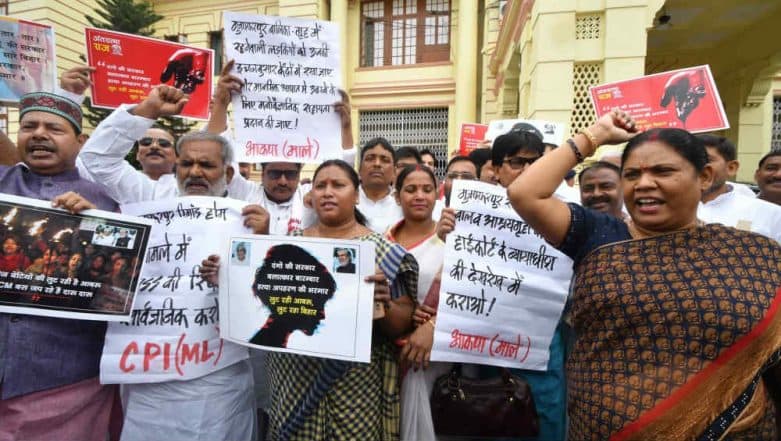 Patna, July 29: The rape survivors at the state-run shelter home in Bihar's Muzaffarpur have several horror stories to tell. After being rescued, the victims have revealed how they were sedated, raped, assaulted and threatened, and the horror continued night after night for months. They recalled they used to wake up in pain and naked almost every night.
One of the victims said she was raped by Muzaffarpur Child Protection Officer Ravi Kumar Roshan, who used to visit the shelter home often. "Chanda aunty took me to him. She gave me a tablet, and I fell unconscious. When I woke up, I was naked. Roshan raped me and warned me against telling anybody about it," the victim recalled, as reported by NDTV.
Another girl said she saw Roshan raping a mentally-challenged girl in one of the rooms at the shelter home. "Her mouth was stuffed with cloth... he was raping her," she alleged. Another victim alleged Roshan thrashed her for resisting rape attempt by him. "He scratched me," she was quoted as aying. A girl with speech disorder pointed towards Roshan's picture when asked about the sexual assault.
One of the girls alleged that Roshan slashed her hand with a knife after raping her in the kitchen. "Roshan threatened to kill me. He said that whenever I will look at the mark, I will remember him," she reportedly said. Meanwhile, a fresh medical report on Sunday confirmed that five more girls were sexually assaulted in the shelter home.
The number of minor girls allegedly sexually abused at a shelter home in Muzaffarpur has increased to 34 so far. The issue of the alleged sexual exploitation of girls at the shelter home, run by an NGO, was first highlighted in an audit report submitted by the Tata Institute of Social Science (TISS), Mumbai, to the state's Social Welfare Department in April.
An FIR was lodged on May 31 against 11 people, including Brajesh Thakur, the owner of the NGO which ran the government-funded shelter home for destitute girls. On July 26, Bihar Chief Minister Nitish Kumar recommended a CBI inquiry into the matter. Ten out of 11 accused people have been arrested till now.