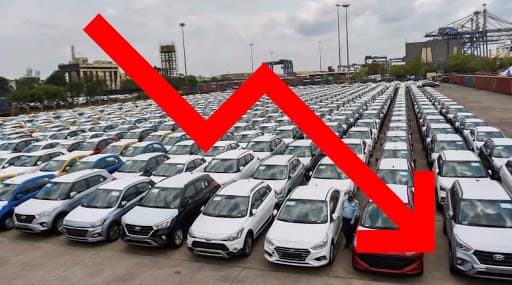 New Delhi, December 6: A month after Society of Indian Automobile Manufacturers (SIAM) data revealed that the domestic car sales were down almost 6.34 per cent in October 2018, a new data by Automotive Component Manufacturers Association (ACMA) arrived on Friday stating that around one lakh temporary jobs were nixed between October 2018 and July 2019.
Informing about the current auto sector crisis in the country, AMCA president Deepak Jain said, as reported by Business Line, "The automotive industry is facing a prolonged slowdown. Vehicle sales in all segments have continued to plummet over the past year. Considering that the component industry grows on the back of the vehicle industry, a 15-20 per cent cut in vehicle production has, inter alia, adversely impacted the components industry's performance and investments." What Slowdown? BJP MP Virendra Mast Refutes Crisis in Auto Sector, Alleges 'Conspiracy to Defame Nation'.
The report further stated that auto sales further declined 10 percent year-on-year (YoY) to Rs 1.79-lakh crore. Jain informed that this resulted in the investment loss of up to USD two billion during the period. He mentioned that the 10 percent investment growth could have added USD 6 billion in revenue, which might have brought USD two billion corresponding investment.
However, there was a sigh of respite that came from exports which shows that the auto industry grew around three per cent to Rs 51,397 crore. Also, data shows that during the first half of the financial year, after-market sales that rose four percent to Rs 35,096 crore.
Earlier, SIAM data had revealed that the domestic car sales were down almost 6.34 per cent at 1,73,649 compared to 1,85,400 units in October 2018. The motorcycles sales also slowed almost 16 percent to 11,16,970 units against 13,27,758 units in the corresponding period a year ago. Also, the total commercial vehicle sales declined by 23 per cent to 66,773 units during last month as compared with 87,067 units in the same month the previous year.