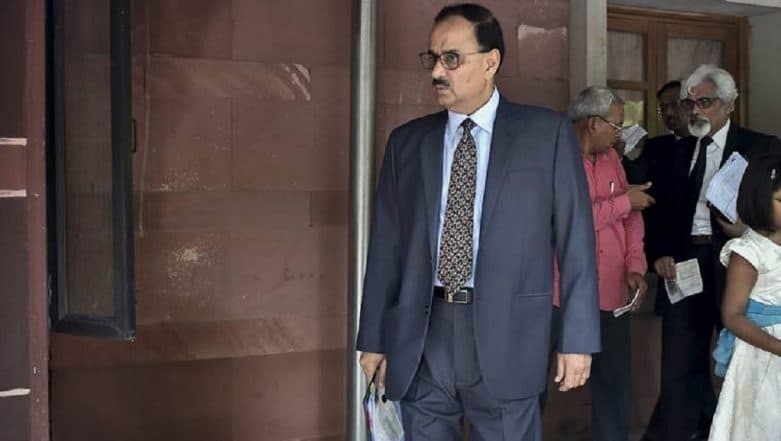 New Delhi, January 9: Central Bureau of Investigation chief Alok Verma, who returned to his office in Delhi after a 77-day exile, has revoked most of the transfers by M Nageshwar Rao, who had replaced him as interim chief. This decision came after the Supreme Court on Tuesday scrapped a government order divesting him of his powers and sending him on infinite leave. Verma, who is retiring on January 31, on Wednesday after assuming office issued two orders 'withdrawing' all the transfers done by Rao on October 24, 2018, and January 3, 2019. Selection Panel Meet to Discuss Charges Against CBI Director Alok Verma Ends Inconclusively; Next Hearing Scheduled on January 10.
Rao, a 1986-batch Odisha cadre IPS officer, was given the duties and functions of CBI director. After assuming the position, on October 24, Rao ordered transfers and posting of 13 officials including joint director AK Sharma, deputy inspectors general (DIG) MK Sinha, KR Chaurasia, Tarun Gauba, Anish Prasad, additional superintendent of police SS Gurm and deputy superintendent of police AK Bassi. On January 3, Rao had transferred officers of Joint Director Rank. Justice AK Sikri To Be Part of Selection Committee With PM Narendra Modi and LOP Mallikarjun Kharge to Decide on CBI Director Alok Verma.
After restoring Verma, the Apex Court said that he cannot take any major decision until a committee comprising the Prime Minister Narendra Modi, the opposition leaders and the Chief Justice of India (CJI) meet and decide on his status. However, CJO Ranjan Gogoi had nominated Justice AK Sikri to take his place on the high-power panel that is considering Alok Verma's case. CBI vs CBI Battle Explained: Why Alok Kumar Verma and Rakesh Asthana are at Loggerheads? How it All Started.
Deputy Superintendent of Police AK Bassi and Deputy Inspector General (DIG) Manish Kumar Sinha, who were investigating Verma's deputy Rakesh Asthana, will be transferred back to Delhi. The Centre had relieved Asthana too of his duties on October 23.
The Supreme Court in the Vineet Narayan judgment had fixed a minimum tenure of two years for the CBI director to give him immunity from any political interference. Later, through the Lokpal Act, the process of selecting the CBI director was handed over to a selection committee.