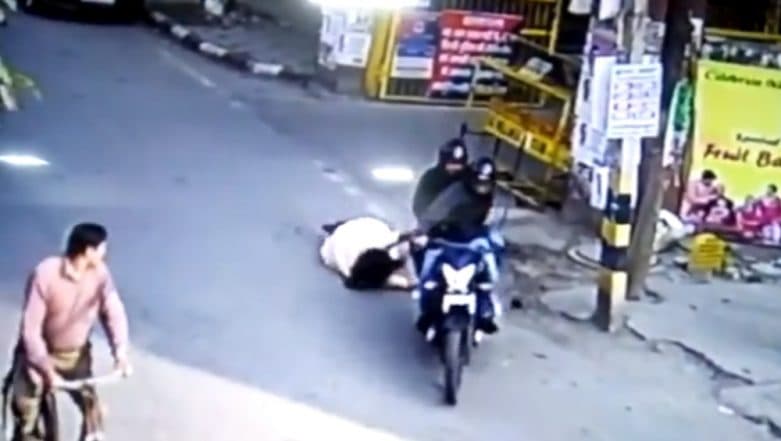 New Delhi, Monday 11: In a shocking incident, a middle-aged woman in Delhi's Janakpuri area narrowly escaped death on 'International Women's Day' when she was dragged behind a motorcycle in her attempt to catch the assailants who robbed her. The image was captured in the CCTV, where one can see how the motorcycle-led miscreants dragged her.
According to the CCTV footage, the incident took place in broad daylight on Friday, when the woman was shopping for the daily groceries. Two miscreants arrived in their motorbike and snatched her handbag. But, the woman protested, and in that attempt, she was dragged as the robbers continued to move ahead. Delhi: Man Drives Burning Car Aside on Busy Akshardham Flyover to Save Others, Loses Family Members
Here's the Video:
आ गया है फर्क उनकी नजरों में अब यक़ीनन,

हमें वो एक खास अंदाज़ से नजर अंदाज़ करते है ll

As a woman is attacked, passing by men watch motionlessly.

The incident took place on #InternationalWomensDay in Delhi's Janakpuri. pic.twitter.com/Cc3XBveV0V

— Anvit Srivastava (@AnvitSrivastava) March 11, 2019
With the incident was taking place and the woman was dragged, bystanders kept looking at the woman's ordeal and didn't come for help. The police have registered a case of purse snatching with no mention of injuries the incident inflicted upon the woman. Though the woman is out of danger, the snatchers could not be ascertained immediately as they were both wearing helmets.