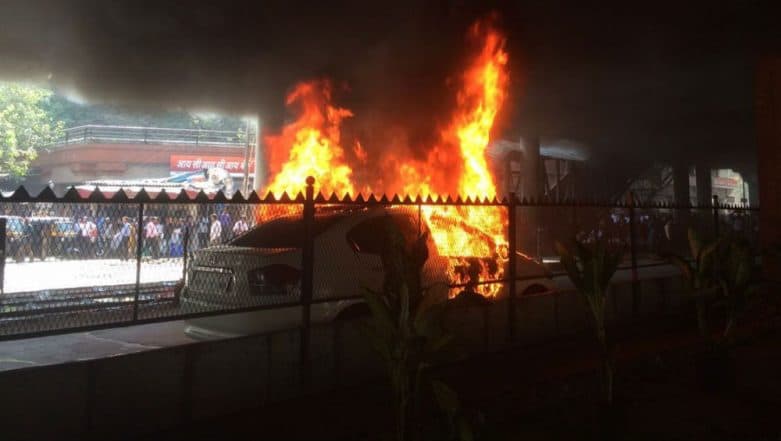 New Delhi, March 11: In a tragic incident, a man drove his burning car aside to save others on busy Akshardham flyover in the national capital on Sunday. As stopping the burning car in the middle of the flyover could have turned into a death trap for other vehicles, the man, identified as Upendra Mishra, drove his car to the side of the flyover before exiting the vehicle. Mishra lost his family in the tragic incident. According to a report by Hindustan Times, the car's rear portion had caught fire, killing all the family members except his daughter, who was sitting on the front seat. According to eye-witnesses, the man slowly moved towards the footpath to stop the car despite more than half of it being engulfed in the fire. Signature Bridge in Delhi Witnesses Another Accident, 24-Year-Old Biker Killed a Day After 2 Medical Students Lost Life in Stunt Gone Wrong. 
Mishra jumped out and pulled out his daughter who was sitting next to him in the front. The report states that other commuters passing by tried to unlock or break open the rear door but failed. Mishra cried and tried repeatedly to break open the rear doors to save his family but people held him back else he too would have died in the fire. The bodies were taken to Lal Bahadur Shastri Hospital for autopsy. Reports inform that the bodies were charred beyond recognition as they were burnt right through. After the incident, Police cordoned off the area and a crane was called which move the gutted vehicle away and traffic was restored. Delhi Shocker: Two Killed After Car Runs Over Them on Footpath Near Rajouri Garden, Accused Arrested.
According to the HT report, Mishra owned the car and used to drive it for the online used car selling company. Details by Police informed that since Mishra had planned a family outing on Sunday, he didn't take the car to work and took the day off to spend with family. According to Deputy commissioner of police (east) Jasmeet Singh, Mishra, a driver by profession, is in a state of shock and the sequence of event will be asked to him to find out reason of fire in the car later.