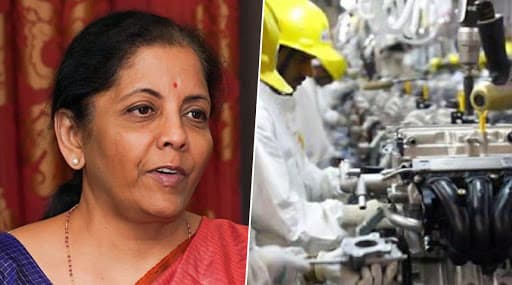 New Delhi, October 24: With India jumping 14 ladders in the World Bank's latest Ease of Doing Business rankings, Union Finance Minister Nirmala Sitharaman on Thursday expressed her happiness and stated that Narendra Modi government would soon fix the glitches in online filing of Good and Services Tax (GST) returns. The Finance Minister also mentioned that there is still a lot of work to be done as if India has to make it within the top 50 ranks.
The Union Minister addressed a press conference soon after the World Bank's survey in which it placed India at 63rd position in comparison to 77th in the previous year. The Minister informed that World Bank had recognised India as one of the top 10 improvers in this year's assessment, for the third successive time. It is to be known that the Central government has set a goal to join the 50 top economies on the ease of doing business ranking by 2020. India Jumps 14 Spots to Rank 63rd on World Bank's Ease of Doing Business List.
Here are Finance Ministry's tweets:
#India takes a big leap in #EaseOfDoingBusiness rankings.

Jumps 14 places to Rank 63 from Rank 77 in 2018. pic.twitter.com/RkrJlOXaGu

— Ministry of Finance (@FinMinIndia) October 24, 2019
Here is a look at the indicator wise rank improvement over last year. #EaseOfDoingBusiness pic.twitter.com/HOtKFCQEYm

— NSitharamanOffice (@nsitharamanoffc) October 24, 2019
Though on several factors, India's improvement in ease of doing business has improved by several folds, but considering the aspect of starting a business, India could move only one step closer to the top. Reacting on the indices, Sitharaman said, "On the ranking of insolvency, we have improved to 52nd place. Starting a business is a very critical point, we have improved only by 1 rank. We'll make efforts to improve our ranking on 'starting a business'."
However, she seemed happy with two of India's metropolitan cities -- Delhi and Mumbai -- were considered in World Bank rankings. However, the Finance Minister said, "Kolkata and Bengaluru will also be added to the list of cities surveyed towards determining India's position in its Ease of Doing Business ranking." Earlier, the Union Finance Ministry had announced several transformative measures to revive the slowing economy of the country. Among the significant measures include cut in the corporate tax rate, bank mergers and slashed GST charges.