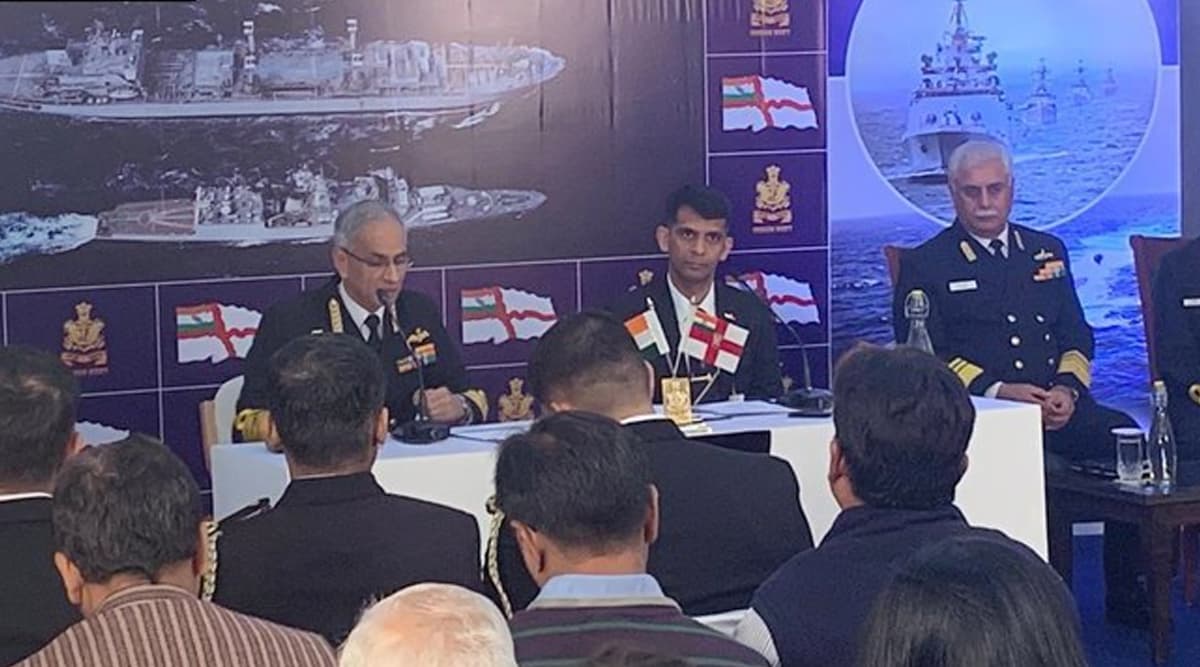 New Delhi, December 4: The Indian Navy is planning to have three aircraft carriers in the fleet in the long term. Indian Navy Chief Admiral Karambir Singh on Tuesday, while addressing the Navy Day press conference said that as Navy chief he was convinced that the country needs three aircraft carriers so that two are operational at all times. He added that India's first Indigenous Aircraft Carrier – I (IAC-I) INS Vikrant will become fully operational by 2022 and would operate with the MiG-29K. INS Vikrant's Construction in Final Stages, Engines of India's First Indigenous Aircraft Carrier Fired Up At Kochi Shipyard.
The Indian Navy will soon get 50 new warships. Speaking at the Navy Day press conference, Admiral Singh said, "50 warships and submarines of the Indian Navy are under construction of which 48 are on order in Indian shipyards." However, the Naval Chief expressed disappointment as the Navy's shared decreased to 12 percent in 2018 as compared to 18 percent in 2012.
Admiral Karambir Singh's Statement: 
Navy Chief Admiral Karambir Singh at Navy Day press conference in Delhi: We should have the first indigenous aircraft carrier IAC-1 fully operational by the year 2022 and it will operate with the MiG-29K. https://t.co/7tUQ87n3v9

— ANI (@ANI) December 3, 2019
Speaking on the security threats, Admiral Singh said, "We are putting our defence and security in place to ensure that threats from terror groups (like Al Qaeda) are thwarted. I want to assure that Navy, along with the Coast Guard and other security agencies, are ready to face any challenge." Meanwhile, the Indian Navy thwarted 44 piracy attempts and apprehended 120 pirates during its anti-piracy operations this year. Indian Navy Drives Away Suspicious Chinese Vessel From Indian Waters Near Port Blair.
The Indian Naval Chief also termed the Narendra Modi government's decision to appoint Chief of Defence Staff (CDS) as a historic move. He said, "My expectation is that the CDS is suitably empowered to carry out all the decisions. Prime Minister has taken a historic decision. Navy had presented all its points on the issue to the government."
The Navy Day is celebrated every year on December 4, to commemorate Indian Navy's attack on Pakistan's port of Karachi as part of Operation Trident during 1971 Indo-Pak war. Pakistan suffered heavy casualties in the attack, while there were no losses on the Indian side. On this day, various events are organised to make people aware of the role and contribution of the Indian Navy in protecting the maritime borders of the country.