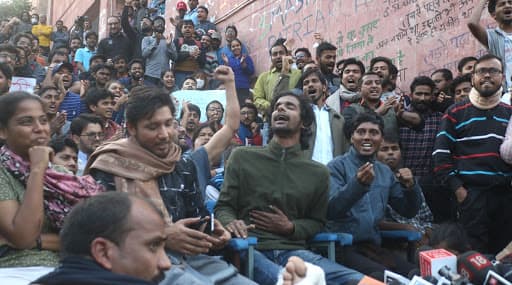 New Delhi, November 24: Jawaharlal Nehru University (JNU) authorities on Sunday announced the formation of an internal high-level committee to resolve the issue of a raise in hostel fee. The seven-member committee also asked suggestions from representatives of students. However, students' union reportedly criticised the decision of forming the committee. Dean of students Umesh Kadam, associate dean of students Vandana Mishra, and provost Neerja Samajdar are part of the committee. JNU Protest: Will Keep On Fighting Till We Achieve Fee Hike Rollback Says JNUSU President.
According to a report published in Hindustan Times, the three-member panel, appointed by the Union ministry of human resource development (MHRD) is likely to submit its report on Monday. Registrar Pramod Kumar said, "This is for the information of all concerned that a high-level committee has been constituted by the competent authority to get suggestions from the student representatives on finding a solution to the hostel issues." JNU Students, Delhi Police Clash Outside Campus, Here's List of Demands of Protesters.
The panel was formed by the government after a delegation of JNU students approached the HRD ministry. On Tuesday, the Delhi Police lodged two FIRs in connection with the protest by JNU students. Yesterday, Delhi Police chief Amulya Patnaik had directed his personnel to desist from using force against protesting students of the University. Hundreds of students and alumni on Saturday gathered at Mandi House for the protest march till Parliament opposing a proposed fee hike in JNU. The opposition also raised the issue in the Rajya Sabha during the winter session of Parliament. JNU Students Protest March To Parliament Stopped By Police.
The hostel fees are currently around Rs 2500 and as per the draft rule, it will be hiked to around Rs 7,500, the protesting students said. According to the report,  after weeks of protest, the university administration lowered the fee upto 50 percent for students belong to below poverty line.