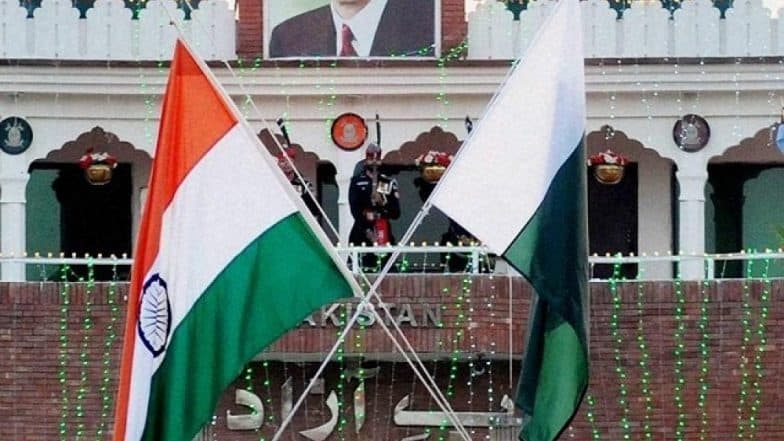 Amritsar, March 14: India and Pakistan officials will discuss modalities of the operationalisation of Kartarpur Corridor with on Thursday at the Indian side of Attari-Wagah border. It will be the first meeting between both the countries to finalise the modalities for the corridor. The meeting, amid heightened tensions between both countries, is being held to discuss the draft agreement for setting up a dedicated corridor that will allow pilgrims from India to visit the Sikh shrine located in Pakistan without obtaining a visa. Pro-Khalistan Flags Raised in Pakistan's Nankana Sahib on Occasion of Guru Nanak Jayanti.
Among other things, India will also take up the Khalistan issue with Pakistan. As per sources, India will ask the neighbouring country to insulate Sikh pilgrims visiting the Gurdwara Kartarpur Sahib through the corridor from Khalistani separatist propaganda. The talks will also focus on important features of the draft agreement. Indian Diplomats Facing Harassment in Pakistan; New Delhi Lodges Complaint With Islamabad.
Last year in November, India had lodged a strong protest with Pakistan over the alleged harassment of Indian High Commission officials in Islamabad and the denial of access to Indian Sikh pilgrims visiting the country. Posters demanding 'Referendum 20-20' were seen in Pakistan's Nankana Sahib during the 549th celebrations of Sri Guru Nanak Dev. Kartarpur Corridor: India To Construct Passenger Terminal Building To Facilitate 5,000 Pilgrims Daily.
On November 26, India laid the foundation stone of the corridor while Pakistan did it two days later on November 28. Vice President M Venkaiah Naidu and Punjab Chief Minister Amarinder Singh laid the foundation stone for the corridor. Meanwhile, in Pakistan, its Prime Minister Imran Khan had laid the foundation stone of the corridor.