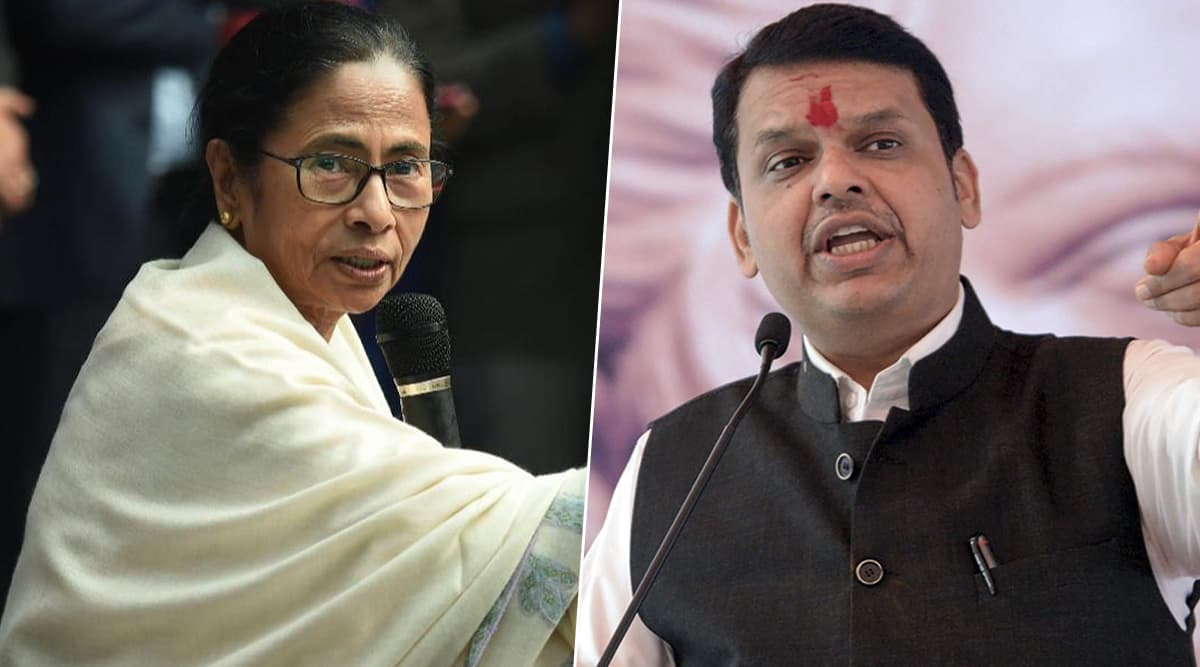 Kolkata, November 26: West Bengal Chief Minister on Tuesday took a dig at former Maharashtra Chief Minister Devendra Fadnavis. Speaking to reporters, Banerjee said that Fadnavis took right decision by resigning as he did not have the majority. She further added that, the BJP legislature head should not have taken the oath in the first place. Maharashtra Government Formation: Uddhav Thackeray as CM, Farmers And Jobs in Focus in Shiv Sena-NCP-Congress Common Minimum Programme.
Earlier in the day, the political drama in Maharashtra took a new twist as both Fadanvis and rebel Nationalist Congress Party (NCP) leader Ajit Pawar resigned from the posted of CM and Deputy CM respectively. Both the leaders resigned hours after the Supreme Court while hearing the joint plea of Shiv Sena, NCP and Congress directed to hold the floor test on Wednesday. Maharashtra Power Tussle: NCP, Shiv Sena, Congress Show Unity, Sharad Pawar Says 'Will Bring More Than 162 MLAs During Floor Test'.
Mamata Banerjee's Statement:
West Bengal Chief Minister Mamata Banerjee in Kolkata: Devendra Fadnavis did the right thing by resigning (as Maharashtra CM), he did not have the majority. He should not have taken the oath in the first place before proving his majority. pic.twitter.com/45u9oKYGvM

— ANI (@ANI) November 26, 2019
Fadnavis's resignation has paved the way for Udhav Thackeray to become CM of the state. On Tuesday, Thackeray was elected to lead "Maha Vikas Agadi" – the alliance of Shiv Sena, Congress and NCP. He is likely to be sworn-in as the next Cm of Maharashtra on December 1.
According to reports, NCP's Jayant Patil and Congress's Bala Saheb Thorat will be deputy CMs. NCP turncoat and BJP leader Kalidas Kolambkar also took oath as pro-tem speaker to conduct the first session of the Maharashtra Assembly which will begin tomorrow.