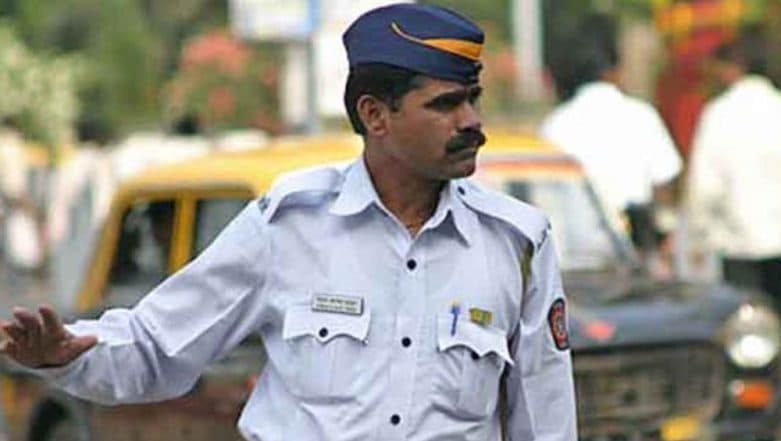 Mumbai, August 26: The number of traffic violations in Mumbai has increased manyfolds compared to the same period last year. Out of the total violations made, the most have been by two-wheeler riders. The data belongs to the period from January to mid-August in 2018. Compared to the 1.3 lakh who were challaned (charged) during this period, 8.6 lakh were challaned this year, reported The Times of India. Mumbai Traffic Unpaid Fines List Includes Cars Used by Salman Khan, Raj Thackeray Among Others.
The data was revealed after analysis of e-challans. The number of two-wheelers fined counts to 8.6 lakh. The number of three-wheelers went up from 2 lakh to 2.5 lakh. However, the number of four-wheelers fined remained the same- 3.5 lakh. Fine for Giving Lift to Strangers & Carpooling Case: Mumbai Traffic Police Constable Transferred for Using The Law at a Wrong Situation.
The amount of fine collected from two-wheelers for violating traffic norms went up to Rs 29.1 crore from Rs 5.5 crore last year. For three-wheelers, the fine was Rs Rs 5.6 crore and Rs 12.4 crore was collected from four-wheelers as fine for traffic rules violated.
The report also said that the increase in the number of two-wheelers due to the high number of bikes after the  popularity of online food delivery apps had contributed to the menace of traffic violation. The report also cited traffic cops saying that riders have started getting aggresive after they are told to follow the traffic rules.
However, the good news is that though bike riders violating traffic rules has increased manyfolds, the number of violators in the three-wheller and four-wheeler segment has not seen significant rise. But violation by bikers is a matter of grave concern and the famed Mumbai Traffic Police has decided to crack down on repeat offenders.