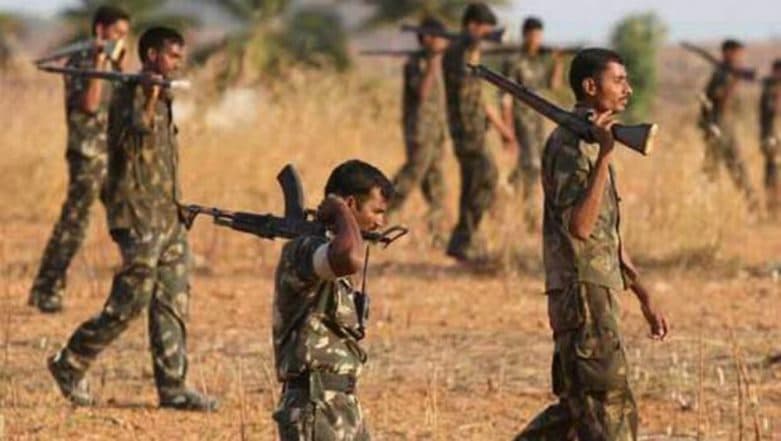 Raipur, November 14: At least six people, including four security personnel, were injured in a Naxal attack in Bijapur district of poll-bound Chhattisgarh on Wednesday. Maoists carried out an IED blast to target a vehicle carrying jawans of Border Security Force (BSF).
The blast triggered an encounter between the Naxals and security forces. P Sundarraj, DIG of Anti-Naxal operations, said four BSF jawans, one DRG and one civilian were injured in the IED blast set off by Maoists. The injured persons were admitted to a hospital in Bijapur. Dantewada: Maoists Trigger Blast on Bus, CISF Trooper Among Four Killed.
Five CoBRA personnel were injured in two encounters with the Naxals in Chhattisgarh's Bijapur district on Monday when polling for the first phase of assembly elections in the state was underway. The skirmish took place at separate spots at a forest in Pamed, around 500 km from Raipur.
The Commando Battalion for Resolute Action (CoBRA) — an elite unit of the Central Reserve Police Force (CRPF) — was patrolling the area in view of the voting. Last month, a Maoist ambush killed a Doordarshan cameraman Achyuta Nanda Sahu and two police officers in Dantewada.
A Doordarshan crew was moving from Aranpur police station to Nilaway village in vehicles with a security patrol when they were attacked. Two police personnel had died on the spot while the cameraman, who suffered grievous injuries, later succumbed to his injuries.
Chhattisgarh went to polls in the first phase on November 12. While 18 seats were contested in phase-I, the remaining 72 constituencies will witness a contest on November 20. The results will be declared on December 11.