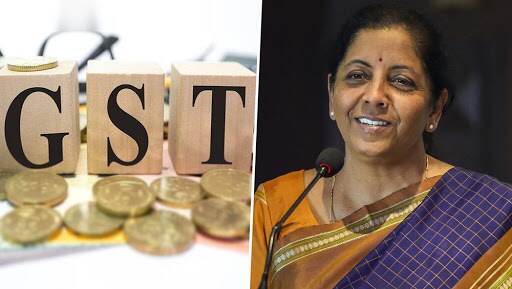 New Delhi, June 11: Days after being appointed as the Union Finance Minister, Nirmala Sitharaman is all set to chair the meeting of the GST Council on June 20. In the meeting is expected that the Union Minister would mull reducing the number of items under 28 percent tax slab, which till now is the highest in the GST tax bracket.
Apart from the major decisions that are scheduled to take place, GST rates of expensive items like a luxury, demerit, and sin goods, besides cement, large screen TV, Air Conditioners and dishwashers might get relief this time. However, the announcement would only be made in the Monsoon Budget 2019, that the Union Minister would present on July 5, a day after the economic survey report is tabled in parliament. Narendra Modi Govt Mulls Major Rejig in Labour Laws; Plans to Decrease Them From 44 to 4
Besides the reduction in GST rates, the other aspect the Finance Ministry is looking into is the interest rate subvention to boost employment and exports for MSMEs. This proposal might be taken into concern as they have the potential of pushing exports and creating more employment, say sources.
Last year in November, PM Narendra Modi had announced loans of up to Rs 1 crore in 59 minutes to GST-registered MSME units which would get two percent rebate in interest on new or incremental loans. Along with this, GST council had doubled the exemption limit from Rs 20 lakh to Rs 40 lakh for MSME sector.
It is to be known that in the previous GST council meeting on December 22, the then Union Finance Minister Arun Jaitley, had decided to tax rates on 23 goods and services, including movie tickets, TV and monitor screens and power banks and exempted frozen and preserved vegetables from the levy. Narendra Modi Government Overestimated GDP Growth Rate, Claims Ex-CEA Arvind Subramanian
The demand for reducing the tax rates, under the umbrella of GST, has been raised by several state governments from time to time. Even the highest bracket of 28 per cent tax too has been criticised. Adding on, the auto, manufacturing and construction sector had been demanding to reduce the GST rates for the Centre.