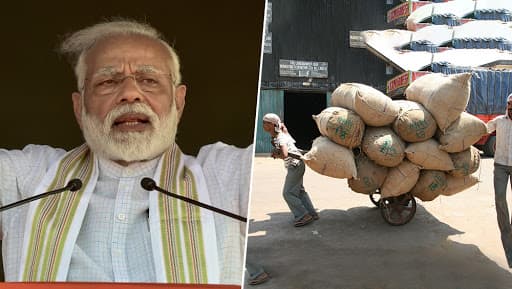 New Delhi, June 11: Nearly two weeks after taking charge as Prime Minister, Narendra Modi-led Union government is planning for a major reform in the existing labour laws of the country on Tuesday. According to a report by Times Now, the Union Ministry is mulling decreasing the existing 44 labour laws to just four.
The report states that the proposal to decrease the existing 44 labour laws in the country to four would be tabled in the Parliament in the first monsoon Budget 2019 on July 5. There are also reports that out of 44 existing laws, 7 are redundant and one has gone to skill development. Out of left labour laws, 32 might be grouped in four bunches. Narendra Modi Government Overestimated GDP Growth Rate, Claims Ex-CEA Arvind Subramanian
Though there is still confusion on what major changes would be brought under the new proposal, it is speculated that these changes are being done to decrease the unemployment rate of the country.
Earlier on May 31, a day after PM Narendra Modi took the oath, the labour department released a data which showed that the unemployment rate in the country increased to 6.1 per cent in 2017-18, which is 45-year-high. It had shown 7.8 per cent of all employable urban youth being jobless, while the percentage for the rural was 5.3 per cent. The joblessness among male on all India basis was 6.2 per cent, while it was 5.7 per cent in the case of females.
Following this, PM Modi called for a first cabinet meeting and constituted two special committees to tackle the unemployment status in the country. Also on Tuesday itself, former Chief Economic Adviser Arvind Subramanian claimed that ruling dispensation overstated the GDP growth by about 2.5 per cent. This finding came out after a month National Sample Survey Office had called PM Modi's previous National Democratic Alliance government's claims as 'dubious'. Narendra Modi's Madrasa Modernisation Push: Teachers to be Trained in English & Science; Focus on Technical Education 
Considering the changes in the newly formed Union Cabinet and PM Modi stretch towards improving the unemployment status of the country, the major reforms in labour laws are most probably going to affect the existing laws. The new proposal might raise some eyebrows in the parliament, with opposition expected to doubt on government's intentions.