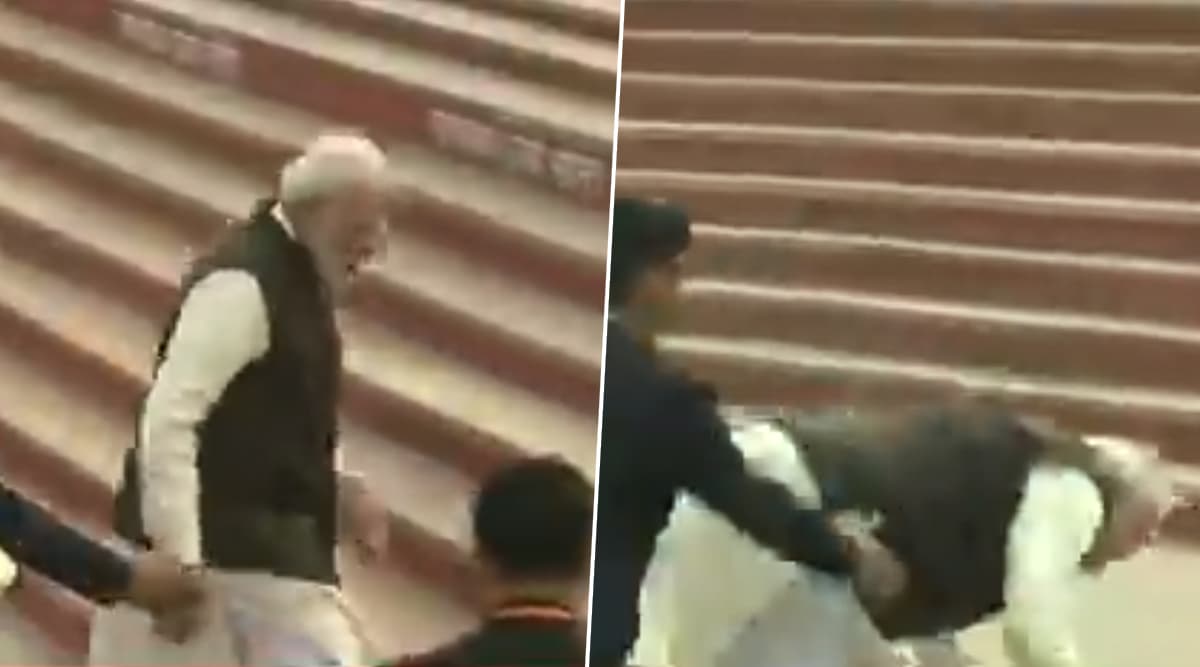 New Delhi, December 14: Prime Minister Narendra Modi, who was on a visit to Kanpur on Saturday, suffered a minor accident. On the Ghats of Ganga in the Uttar Pradesh city, where he visited along with UP Chief Minister Yogi Adityanath and his Uttarakhand counterpart Trivendra Singh Rawat, he stumbled on the steps and fall. Video of him slipping on the stairs of Ganga Ghat went viral on social media. PM Narendra Modi Takes Boat Ride with BJP CMs Yogi Adityanath, Trivendra Singh Rawat and Deputy CM Sushil Kumar Modi in Kanpur; Watch Video.
In the clip, Modi could be seen climbing the stairs in his usual manner -- the Prime Minister normally uses the stairs in a hurried manner as opposed to several senior citizens who face difficulty in climbing the stairs. Accidentally, Modi's feet slipped from one of the stairs and he stumbled.
Watch Video of PM Modi Falling on Stairs of Ganga Ghat
Narendra Modi demonstrating what he did with the economy pic.twitter.com/yuGmePOIjy

— Roshan Rai (@TheRoshanRai) December 14, 2019
The video, as shared above, shows Modi did not suffer any injuries due to the accident. He was quick enough to prevent his upper body to directly take the brunt of the fall. Modi immediately got up, with some assistance from his Special Protection Group (SPG) staff, and continued his ascent on the stairs of Ganga banks.