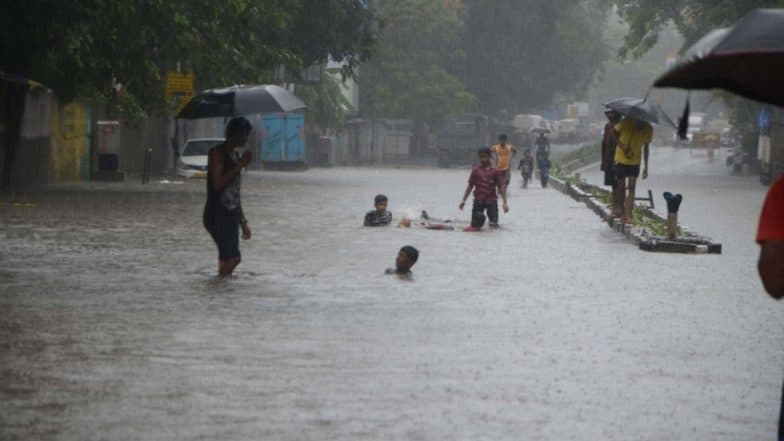 Jaipur, August 16: Heavy rains wreaked havoc in Rajasthan. At least four people were killed in three districts – Kota, Chhabra and Bundi - of the state's worst affected Hadoti region. Rescue operations are currently underway. Hundreds of people have been evacuated to safe places. Hadoti region comprises districts of Bundi, Baran, Jhalawar and Kota. Madhya Pradesh Floods: Shops Swept Away After Boundary Wall Collapses Due to Deluge in Neemuch, Watch Horrific Video.
Kaithoon town of Kota has turned into an island as it was submerged in five to 10 feet water. "An average of three to four-inch of rainfall has been recorded in Kota and Baran districts of Hadoti region, which has created a flood-like situation in Kaithoon and Chhabra areas," reported Hindustan Times quoting divisional commissioner LN Soni as saying. Madhya Pradesh Floods Video: Man Washed Away While Crossing Flooded River in Rajgarh.
Indian Army, State Disaster Response Force (SDRF) and National Disaster Response Force (NDRF) have been deployed in Kota and Barandi districts of the state. According to the report, 350 people were rescued in Kaithoon and around 150 from Chhabra town of Baran district.
Meanwhile, the weather department has also predicted heavy rains in the Hadoti region in the next 24 hours. Lok Sabha Speaker and Kota MP Om Birla visited Kaithon on Friday. Ladpura MLA Kalpana Devi also accompanied Birla. Around 16 gates of Kota barrage on Chambal river were opened on Friday morning due to which an alert was sounded in the low-lying areas. Gujarat Rains: Brave Constable Carries Two Children on His Shoulders in Flood-Affected Morbi District; Watch Video.
The central state of Madhya Pradesh is also reeling under floods. several human lives and properties have been washed away in the last few days in the state. Due to the increasing water-level, floodwaters have entered the famous Pashupatinath Temple in Mandsaur.