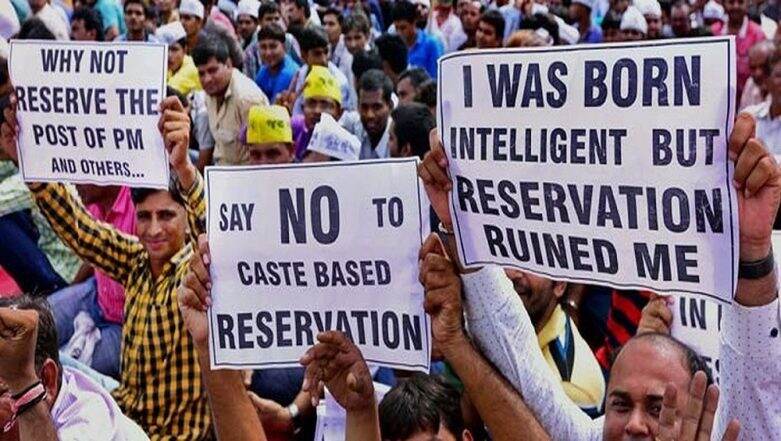 New Delhi, January 7: Prime Minister Narendra Modi led government on Monday approved 10 per cent reservation for 'economically backward' upper castes across all religions in government jobs and educational institutes. With this new 10 per cent, reservation in the country now stands at 60 per cent – above the 50 per cent limit imposed by the Supreme Court for caste-based quota in government jobs.
Those who belong to upper castes of all religions and earn less than Rs 8 lakh per year will be eligible for the announced reservation. The Modi government is expected to move a Bill to amend Article 15 and 16 of the Constitution to implement quota for upper castes in government recruitment and for admission in higher educational institutions. The amendments will provide 10 per cent reservation to the economically weaker sections among castes that fall under the general category.
At present, 50 per cent seats in government jobs and higher educational institutions. Of these 50 per cent, the Other Backward Classes (OBC) has 27 per cent share in the reservation pie, while Dalits and Adivasis together get 22.5 per cent, bringing the total to 49.5 per cent. The 50 per cent limit was set by the Supreme Court in 1992. The apex court had held that the reservation under Articles 15(4) and 16(4) should not exceed 50 per cent.
Article 15(4) of the Constitution states: "Nothing in this article or in clause (2) of Article 29 shall prevent the State from making any special provision for the advancement of any socially or educationally backward classes of citizens or for the Scheduled Castes and the Scheduled Tribes."
Article 16(4) of the Constitution says: "Nothing in this article shall prevent the State from making any provision for the reservation of appointments or posts in favour of any backward class of citizens which, in the opinion of the State, is not adequately represented in the services under the State.