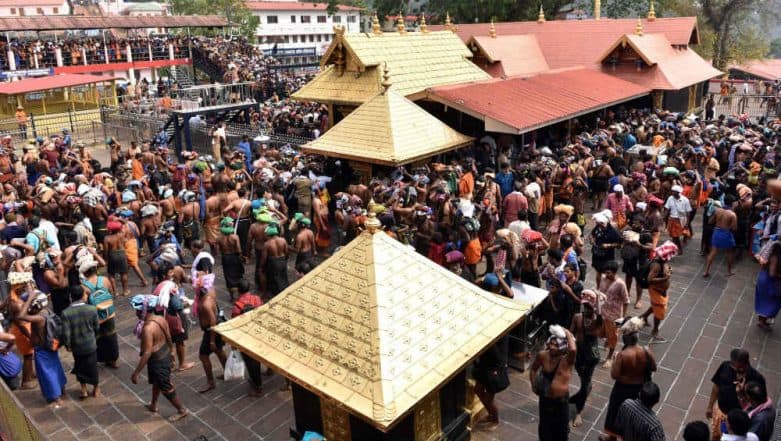 Pathanamthitta, January 4: Amid tight security from the Kerala Police, a 46-year-old Sri Lankan woman – Sasikala – went walked up the "18 Holy Steps" without any hindrance at the Sabarimala temple on Thursday. However, she was not allowed to enter the inner sanctum of the Lord Ayyappa temple by the priests.
Confirming the report, the woman - Sasikala (46-year-old Sri Lankan national and daughter of Asok Kumaran) – stated, "I went up to the holy steps, but I was not allowed to go further. I had a medical certificate also." However, the Kerala Police claimed that the woman was successful in her attempt to offer prayers at the Lord Ayyappa' temple, along with her relatives. On Thursday, police had said, as reported by The Hindu, "She finished her darshan at around 9.30 p.m. and reached Pampa safely by 11 p.m." Kerala Journalists Boycott BJP Pressers to Protest Attack on Media Persons in 'Hartal' Called by Sabarimala Karma Sarmithi.
Earlier on Thursday, massive protests across the state were observed against the two women of menstruating age entering inside the sanctum sanctorum of the Ayyappa temple in Sabarimala on Wednesday. The protests were called by Sabarimala Karma Samithi – an umbrella organisation of pro-Hindutva groups, and the Antarrashtriya Hindu Parishad (AHP).
During the entire day – 12-hour hartal – violence was at the peak, with several reports of pro-Hindu activists pelting stones at law enforcement officers and journalists. Due to this, a large section of Kerala journalists boycotted the press conferences addressed later in the day by top BJP leaders of the state. The decision to boycott the pressers was taken by the district committees of the Kerala Union of Working Journalists (KUWJ).