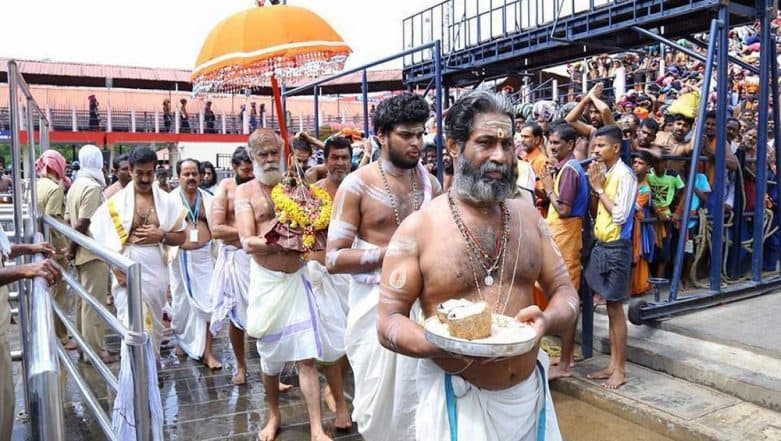 Thiruvananthapuram, January 20: The doors of Lord Ayyappa temple in Sabarimala was closed today, January 20, after witnessing the huge protests over the entry of women of menstruating age. The temple was closed on Sunday marking the conclusion of over two-month-long annual pilgrimage season. With this, opposition Bharatiya Janata Party also ended its 49-day-long hunger strike in front of Thiruvananthapuram Secretariat, demanding a lifting of restrictions at Sabarimala. History of Sabarimala: Why Women Weren't Allowed Into The Lord Ayyappa Shrine.
After the doors closed, Kerala Chief Minister Pinarayi Vijayan lashed at Sangh Parivar and said, "their Sabarimala stir was a complete failure." While BJP state president PS Sreedharan claimed the agitations were aimed at protecting the traditional faith of devotees. Women's' Entry In Sabarimala Shrine to be Delayed? Temple Board May Seek Time to Implement Supreme Court's Order.
The gates of sanctum sanctorum was closed at 6.15 in the morning after darshan by Pandalam royal family, P Raghava Varma Raja. The gates of Sabarimala temple will reopen on February 13 for the monthly rituals.
Meanwhile, Sabarimala which doesn't allow women in their menstrual age to enter the temple as the lord Ayappaa was Brahmachari. But this time, more than dozens of the woman tried to enter the temple and failed. However, on January 2, two women-Kanakadurga and Bindhu- created history by entering the sanctum sanctorum.