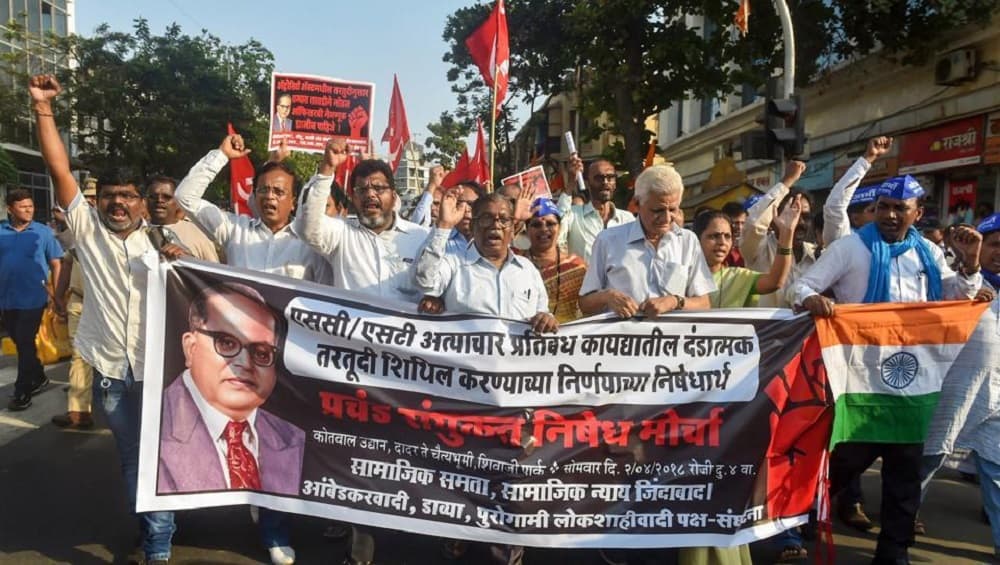 New Delhi, October 1: The Supreme Court will pronounce its verdict today in the plea filed by the Centre seeking review of the 2018 judicial order which allegedly "diluted" the provisions of the SC/ST (Prevention of Atrocities) Act, 1989. A three-judge bench headed by Justice Arun Mishra heard the matter last month and reserved its judgement. The government is hopeful that the law would be reinstated in its original form to ensure equality in the society. SC/ST Act Amendment Bill, Which Annuls Changes Made to Atrocities Law by Supreme Court, Passed in Rajya Sabha.
The judicial order, which has been challenged by the Centre, was issued by a two-judge bench of the apex court on March 20, 2018. The order diluted the provision of the SC/ST law which mandates the immediate registration of FIR. As per the order, a DSP-rank officer will have to conduct a preliminary inquiry before registering the case under the Atrocities Act.
The 2018 order had further struck down the no-bail clause against the accused booked under SC/ST Act. The decision by the apex court had sparked nationwide unrest among the Dalit community, with demonstrations being organised in all parts of the country.
The Narendra Modi government decided to file a review plea against the order, appealing the Supreme Court to re-study the 2018 verdict which goes against the "spirit of the Constitution".
The arguments of Solicitor General KK Venugopal struck a chord with the apex court, with the Justice Arun Mishra-led bench noting that the 2018 verdict may have went against the statues of the Constitution.
"It is against the spirit of the Constitution. Can an order be passed against the statute and the Constitution just because there is abuse of the law?" the bench observed, indicating that it was in favour of restoring the Atrocities law in its original form.