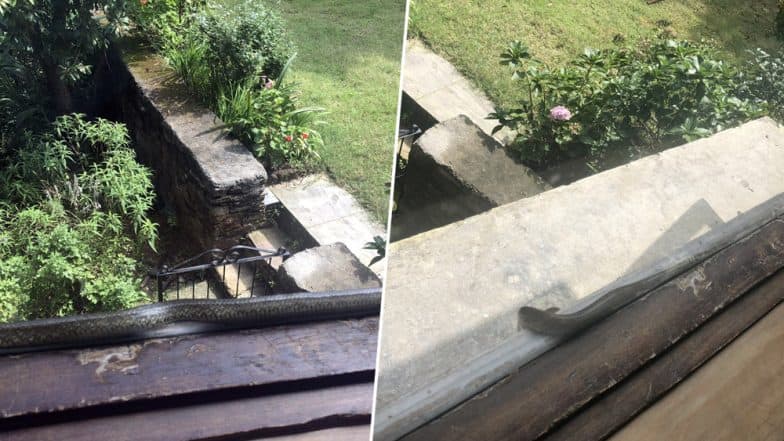 New Delhi, September 10: Sharmistha Mukherjee, the daughter of former President and Bharat Ratna Pranab Mukherjee, "just had the most scary experience" of her life. The daughter of former President, saw a snake peeping at her from the window. Sharmistha Mukherjee shared the picture of the serpent and narrated her ordeal. The pictures shared on Twitter shows a snake crawling behind the closed window. Bharat Ratna 'Pranab Mukherjee Had to Travel 10 Kms Every Day to School', Says Daughter Sharmistha Mukherjee on Father's Struggle.
It is not clear from Sharmistha Mukherjee's post as to what is the exact location of the guest house. However, this much is clear that the incident took place at her cottage in the hills. Sharmistha Mukherjee said in her tweet that she screamed so loudly after spotting the snake that, "It slithered away on its own." Sharmistha Mukherjee Denies Rumours of Joining BJP, Says Former President Pranab Mukherjee Giving Full Handle to RSS/BJP for Planting Fake News.
See the Pictures and Read the Post in the Tweet Below
Just now had d most scary experience of my life. Saw a snake peeping thru a fixed glass window in my cottage in d hills. Luckily it didnt come thru d other room where d window was wide open! It slithered away on its own, perhaps getting scared by my screaming! Gosh! Its scary! pic.twitter.com/hfR2wTXdYk

— Sharmistha Mukherjee (@Sharmistha_GK) September 10, 2019
In one of her another tweet, when a user told her that snakes can't hear sounds, saying "Snakes 🐍 in general don't have ears to listen ... However the mere presence of snake is terrifying ... stay safe ...," Sharmistha Mukherjee replied saying, "Then it must b d vibrations bcas other than screaming, I was jumping like mad- enuf 2 produce mini earthquake! Jokes apart, it was scary!"
The Congress on Monday appointed two national spokespersons. Sharmishtha Mukherjee and Anshul Meira Kumar are the new All India Congress Committee national spokespersons. "Thanks & gratitude to Hon'ble @INCIndia President Smt. Sonia Gandhi ji for appointing me as National Spokesperson of AICC. Would like to thank Shri @rssurjewala ji as well, and extend my heartiest congratulations to Shri Anshul Meira Kumar ji," tweeted Sharmistha Mukherjee after her appointment.