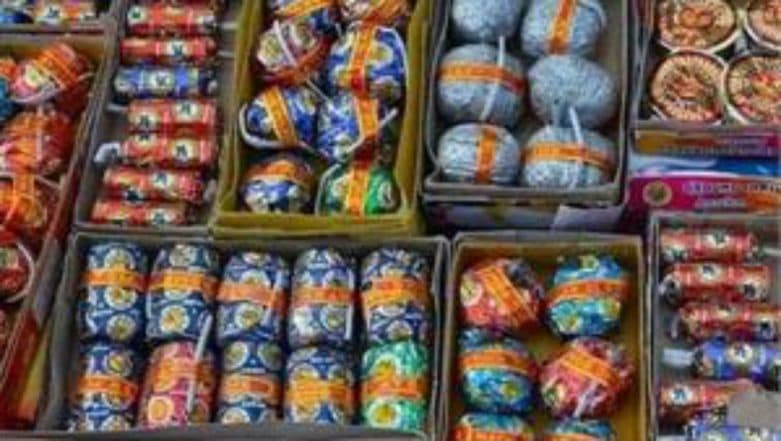 Chennai, March 27: In a tragic incident, seven people were killed after a fireworks unit in Tamil Nadu was engulfed in flames on Wednesday. Reports inform that nearly a dozen others are believed to be in critical condition and are being treated at the Mannargudi General Hospital. The explosion was so massive that several workers lost their limbs and were severely injured. The unit was on fire for over an hour while crackers continued to burst inside the unit. Later, as the authorities were alerted, they managed to douse the fire and bring it under control.
According to reports, the fatal incident took place in a firework unit in Mannargudi town in Tiruvarur district of the southern state around 9.20 AM on Wednesday morning. It was during the time when the workers had just reached the unit to begin their work for the day. Tamil Nadu: Fire at Cracker Factory in Tirunelveli, 6 Killed, 10 Injured. 
According to a report by Hindustan Times, the unit was set ablaze after the country-made crackers stored inside the unit caught fire, killing innocent workers. T Anand, Thiruvarur district collector confirmed the incident and stated that the unfortunate incident took place when the workers had arrived and were beginning to get started for the day. He further informed saying that around 50 workers, including 18 women, were involved in the packing, shifting, filling ingredients for the firecrackers when the blaze took place.
The HT report states that deceased have been identified as Suresh, Babu, Singaravelu, Mohan, Arivu, Veerayyan. The last body is yet to be identified as it has been charred beyond recognition. As soon as the incident was reported. ccording to details by Police, police rushed to the spot to take a stock of the situation. Police informed that there was nearly one tonne of country-made crackers kept inside the unit and said it wasn't clear what started the explosion.