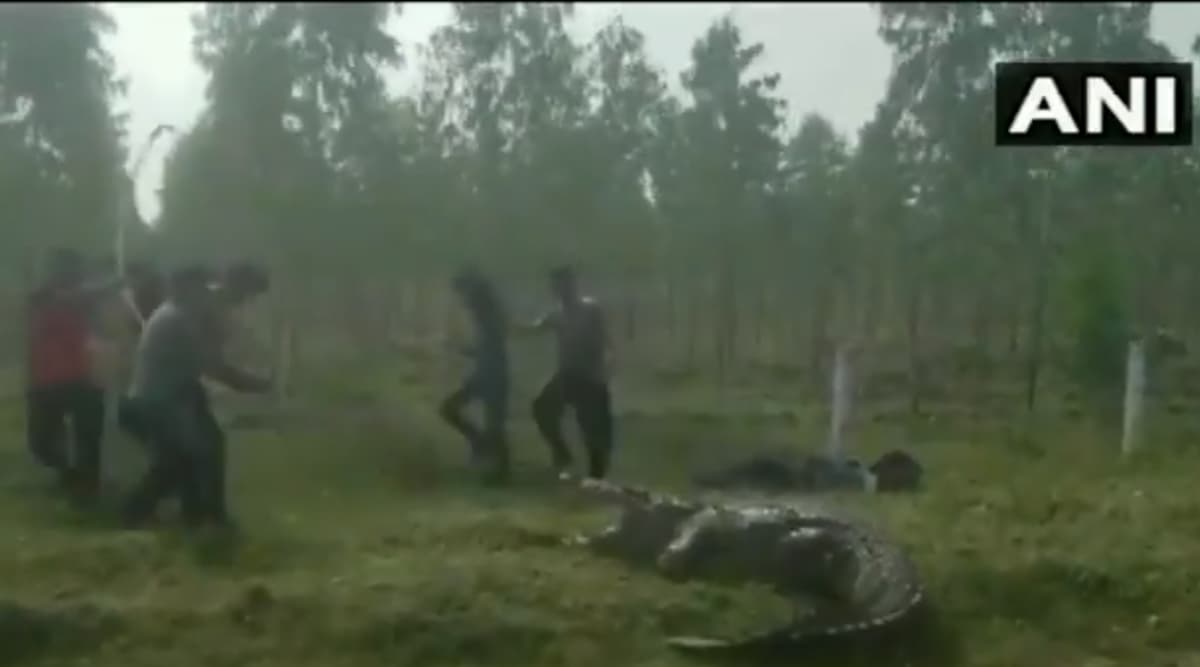 Vadodara, December 1: A 12-feet-long massive crocodile was rescued and handed over to the forest officials on Saturday. The huge reptile was spotted in an open field near Ajwa-Nimeta stretch at Raval village of Gujarat's Vadodara by the locals. It took more than 10 persons to rescue the crocodile. The reptile must be weighing approximately 300 kilograms. Crocodile Sneaks Up On Stray Dog In Vadodra As Flood Waters Inundate City In Gujarat.
In the video shared by news agency ANI, a team of wildlife enthusiasts and volunteers can be seen trying to bring crocodile under control. The crocodile might have ventured into the field through a water channel which is connected to Alwa reservoir. Crocodile in Gujarat Temple! 6-Foot Reptile Strays Into Khodiyar Mata Mandir, Villagers Call it Miracle and Offer Prayers (Watch Video).
Watch Video:
#WATCH Gujarat: A 12-feet-long crocodile which had ventured out into fields in Raval village of Vadodara, yesterday, was rescued and handed over to forest department. pic.twitter.com/TOiVuqjXFv

— ANI (@ANI) December 1, 2019
The mammoth-sized crocodile was later handed over to forest officials. Ajwa is home to a healthy population of reptiles. During the winter season, crocodiles come out of water bodies for thee things-either getting warm, prepare for the mating season or finding food.
Several huge crocodiles have been rescued from Vadodara over the last few days. Last week, an 11.5 feet long crocodile was rescued from Ambatalav village when it had ventured into an open field.