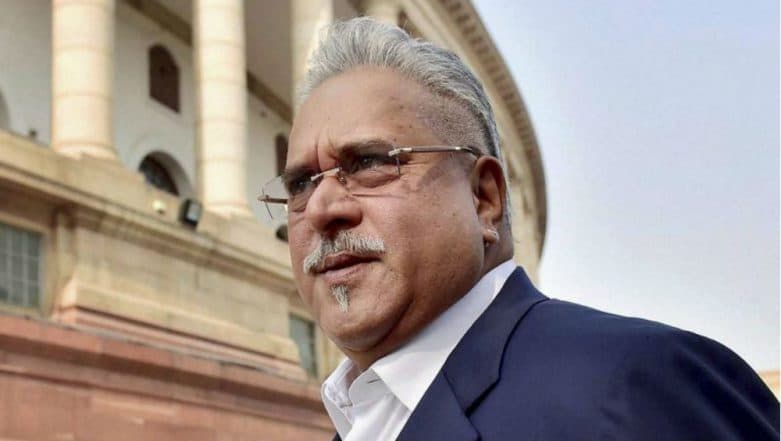 London, April 8: The United Kingdom (UK) Court on Monday rejected liquor baron Vijay Mallya's appeal against extradition order. Earlier in February, Mallya had filed his application in the UK High Court, seeking permission to appeal against an extradition order signed by the British Home Secretary. The 63-year-old businessman is wanted in India on alleged fraud and money laundering charges amounting to an estimated Rs 9,000 crores. Nirav Modi, Mehul Choksi, Vijay Mallya Fled India Fearing Chowkidar Narendra Modi: Rajnath Singh. 
Mallya, who remains on bail on an extradition warrant in the UK, made the application in the Administrative Court division of the High Court. His application came 10 days after Home Secretary Sajid Javid signed off on the order triggering a 14-day window for his appeal application. Vijay Mallya Tells Bombay High Court: Confiscating Properties Draconian, Not Help Creditors. 
Reports inform that after the outcome at the High Court level, both sides will have to apply for the right to appeal to the Supreme Court, which would involve at least another six weeks. However, that process is more complex as the UK High Court must certify that the appeal involves a point of law of general public importance, and either the High Court or the Supreme Court gives leave for the appeal to be made. Vijay Mallya Extradition: UK Home Secretary Signs Order, Liquor Barron to Appeal. 
Since March 2016, Mallya has been based in the UK and remains on bail on an extradition warrant executed by Scotland Yard in April 2017. It must be noted that India and the UK have an Extradition Treaty signed in 1992 and in force since November 1993. According to reports, so far only one successful extradition has taken place from the UK to India under the treaty – that of Samirbhai Vinubhai Patel, who was sent back to India in 2016 to face trial in connection with his involvement in the post-Godhra riots of 2002.