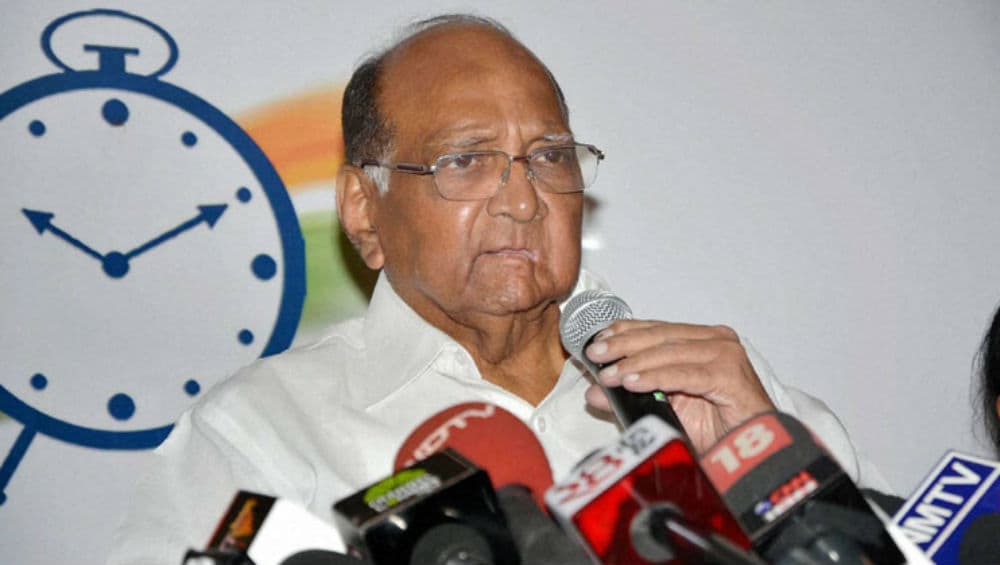 Mumbai, November 19: With the Congress, NCP and Shiv Sena evidently struggling in the realpolitik to stitch a three-party coalition, reports have alleged that BJP is sending overtures to the Sharad Pawar-led party. The Amit Shah-led group, which is considered to have mastered the art of post-poll politics, has reportedly offered the "President's post" to Pawar if he agrees for a BJP-NCP alliance in Maharashtra. NCP Praised in Address by PM Modi in Rajya Sabha.
The NCP has been sent a covert offer by the BJP, reported NDTV citing sources. The news channel claimed that the offer includes the post of President for Pawar. The top constitutional post is currently occupied by Ram Nath Kovind, who was elected by the lawmakers in 2017.
The NCP, with 54 legislators, would allow the BJP to comfortably cross the halfway majority mark in Maharashtra. The latter had emerged as the single-largest party in the recently held elections, winning 105 seats.
Falling short from the majority mark by 40 MLAs, the BJP was left stranded when its pre-poll ally Shiv Sena pressed hard on the chief ministerial post. Sena, which won 56 seats, said the "Mahayuti" or the coalition with the BJP would remain intact only if the CM post is shared.
After snapping ties with the BJP, the Sena reached out to the ideological rivals - the Congress and the NCP. The trio, over the past 10 days, have been working on a common minimum programme. Reports claim that if the alliance is finalised, the government would be headed by a Sena chief minister, and the Congress and NCP will have Deputy CMs each.
Pawar, while responding to reporters on Monday, had categorically denied aligning with the BJP. "There is no question of supporting the BJP. We fought elections in alliance with the Congress," he said.
Meanwhile, Sena parliamentary leader Sanjay Raut told reporters that progress has been made by the three parties who are deliberating on the details of their coalition government. "The Sena-headed government would come to power by the first-week of December," he said.