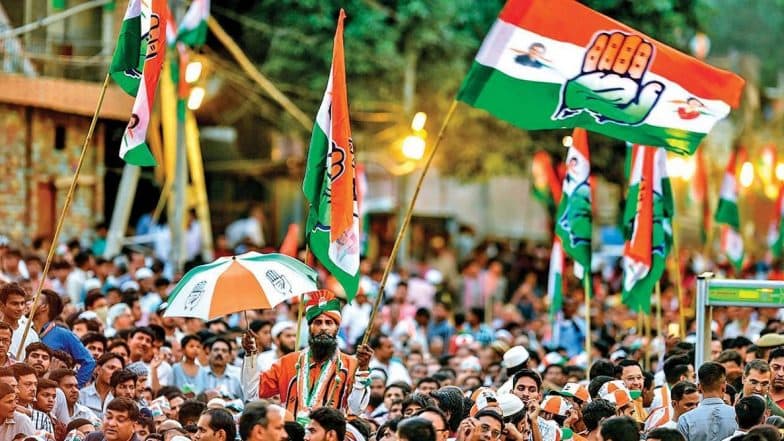 New Delhi, November 6: The Congress has called for a massive opposition rally in Ramlila Maidan on December 1 on the issues of economic slowdown and agrarian distress. The party, in a statement issued on Wednesday, said the demonstration is aimed at exposing the Narendra Modi government for its faulty policies which have adversely affected the small and medium-scale business owners, daily wage earners and farmers. Economic Slowdown: House Sale Drops 9.5% in July-September Across 9 Major Cities, Says Report.
The joint Opposition rally date was confirmed by the Congress a day after it met leaders of over a dozen political parties. At the meeting held on Monday, Congress veteran  Ghulam Nabi Azad, RLD chief Chaudhary Ajit Singh, CPI MP D Raja, former JD(U) leader Sharad Yadav and representatives of the NCP, RJD, CPI(M), JMM and other parties were present.
Update by ANI:
Delhi: Congress to hold a rally at Ramlila Maidan on 1st December along with other parties on the issues of economic slowdown and agrarian crisis. pic.twitter.com/ySa1sQOzMb

— ANI (@ANI) November 6, 2019
The pinch of economic slowdown has been recorded across several sectors in India, with the automobile industry said to be the worst affected. The unprecedented dip in sale volume of cars has led to job losses for over 2 lakh workers in the auto sector.
The results of the recent elections in Maharashtra and Jharkhand has boosted the Opposition's strategy to corner the Modi government on the issue of economic slowdown and agrarian crisis. Despite riding on a popularity wave after repealing Article 370 in Jammu & Kashmir, the BJP faced a setback in the polls as it lost is single-majority status in Haryana, and is struggling to form the next government in Maharashtra.
The Congress' protest, planned on December 1, would come amidst the five-phase Jharkhand assembly elections 2019. The polls in the northern state will begin on November 30 and conclude on December 20. Results would be declared by the Election Commission on December 23.