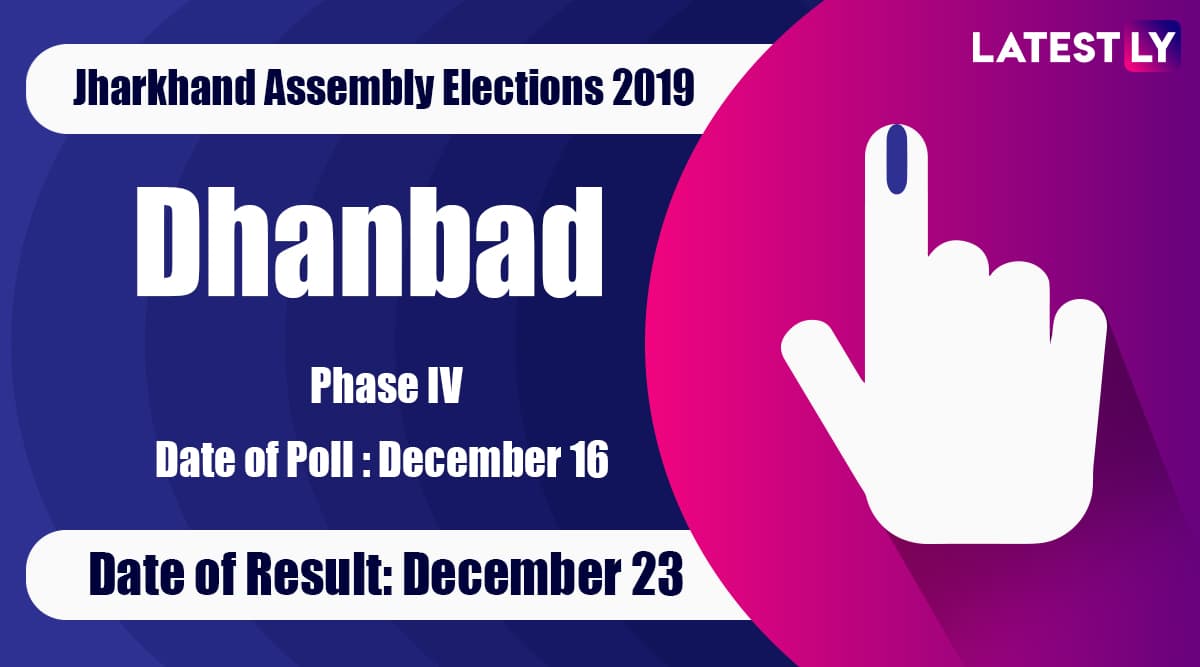 Ranchi, December 13: Dhanbad Vidhan Sabha is an assembly constituency in the Indian state of Jharkhand. BJP candidate Raj Sinha won the 2019 Assembly elections with 61,111 votes defeating Congress's Manan Mallick. The constituency had its polls under phase four elections on December 16. Dhanbad is the second-most populous city in the Indian state of Jharkhand. The city ranks 33rd largest city in India and ranks 42nd largest million-plus urban agglomeration in India.
Raj Sinha had also won the 2014 Assembly Elections with 132091 votes defeating Mannan Mallick who secured 79,094 votes. In 2009, Manan Mallick had won the Assembly Elections with 55641, marginally ahead of BJP candidate Raj Sinha. Nirsa Vidhan Sabha Constituency in Jharkhand: Sitting MLA, Candidates For Assembly  Elections 2019, Results And Winners.
The five-phased assembly election in Jharkhand began on November 30. Counting of votes will take place on December 23. In the ongoing bypolls Congress and the Jharkhand Mukti Morcha (JMM) has decided to keep their alliance which was decimated by the Bharatiya Janata Party (BJP) in the Lok Sabha polls.
The other constituencies under phase 4 which will have their 2019 Jharkhand bypolls on December 16 are- Sindri, Deoghar, Giridih, Jharia, Tundi, Baghmara, Bokaro, Chandankiyari, Madhupur, Bagodar, Jamua, Gandey, and Dumri.
| MLA Candidates | Party | Votes |
| --- | --- | --- |
| UMESH PASWAN | IND | 927 |
| MANNAN MALLICK | INC | 90144 |
| LAKSHMI DEVI | IND | 831 |
| RAJ KUMAR SONI | AAP | 670 |
| MEGHNATH RAWANI | IND | 660 |
| K.C. SINGH RAJ | IND | 330 |
| RANJEET SINGH ALIAS BABLU SINGH | IND | 2852 |
| SURENDRA KUMAR | IND | 234 |
| SANJAY PASWAN | IND | 205 |
| SAROJ KUMAR SINGH | JVM | 1458 |
| RAJ SINHA (Current MLA) | BJP | 120773 |
| RAM JANMA PRASAD | BSP | 1145 |
| PRADIP MOHAN SAHAY | AJSU Party | NA |
| BINOD CHANDRAWANSHI | Peoples Party of India (Democratic) | NA |
| BIRU ANAND SINGH | Marxist Co-Ordination | NA |
| MANILAL MAHTO | Jharkhand Mukti Morcha (Ulgulan) | NA |
| MERAJ KHAN | Samajwadi Party | NA |
| MOHAMMAD FAISAL KHAN | Bhartiya Dalit Party | NA |
| RAM VINAY SINGH | Hindustani Awam Morcha (Secular) | NA |
| RAHUL KUMAR PASWAN | Communist Party of India (Marxist-Leninist) (Liberation) | NA |
| VIKASH RANJAN | Lok Jan Shakti Party | NA |
| VIPIN KUMAR | JD(U) | NA |