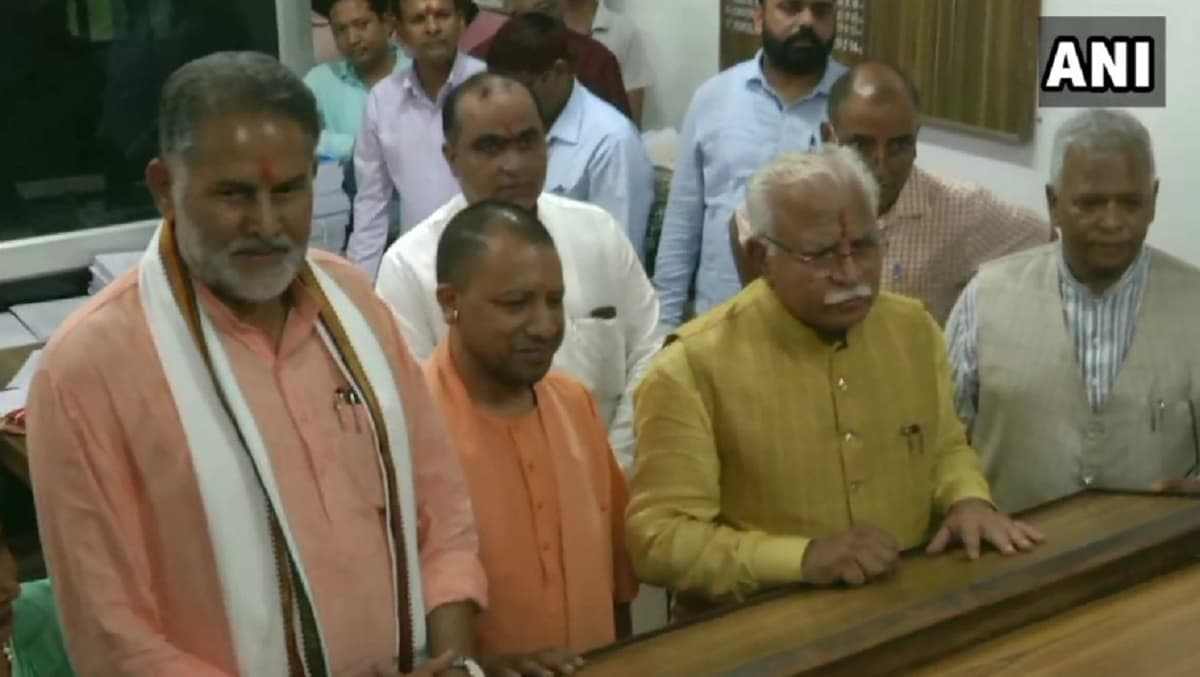 Chandigarh, October 1: Haryana Chief Minister Manohar Lal Khattar on Tuesday filed his nomination papers at the State Election Commission office. The 64-year-old Bharatiya Janata Party (BJP) leader, with deep roots in the Rashtriya Swayamsevak Sangh (RSS), is contesting from Karnal constituency -- which he won for the first time in 2014. If the BJP returns to power, Khattar will continue as the Chief Minister. Sacked BSF Trooper Tej Bahadur Yadav to Now Contest Against Manohar Lal Khattar.
For the filing of nominations, Khattar was accompanied at the Election Commission office by Uttar Pradesh Chief Minister and BJP's star-campaigner Yogi Adityanath. The two leaders were followed by scores of party workers who ensured that Khattar's nomination-filing ceremony turned out to be a show of strength.
Update by ANI:
Karnal: Haryana Chief Minister Manohar Lal Khattar files nomination from Karnal Assembly constituency. Uttar Pradesh Chief Minister Yogi Adityanath also present. #HaryanaAssemblyPolls pic.twitter.com/V9tLBpl0PP

— ANI (@ANI) October 1, 2019
Khattar, who drew the tag of being a "parachute candidate" in 2014, sent shockwaves across the political circles when the BJP appointed him as the Chief Minister. He was heading the party's organisational general secretary in Haryana between 2000-14, but had failed to leave an impact as the party had performed dismally in all polls leading up to 2014.
Critics had attributed Khattar's appointment to the chief ministerial post to his strong links with the RSS. The Opposition had raised hue and cry over his elevation, alleging that the BJP wants to suppress the state's politically dominant Jat community.
The BJP, however, has strengthened its position under the state under Khattar's leadership. An opinion polls by the ABP News-CVoter has revealed that the party could win up to 78 out of the 90 constituencies in the upcoming assembly elections.