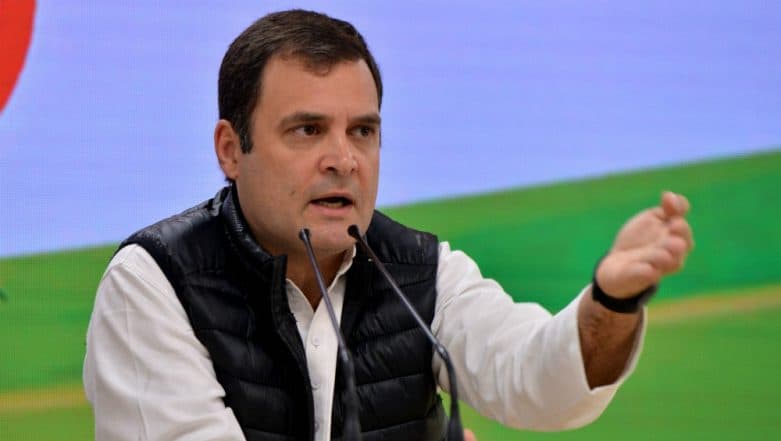 New Delhi, March 11: Congress President Rahul Gandhi is at the center of controversy after he allegedly called Jaish-e-Mohammed (JeM) chief Masood Azhar, mastermind of the 2001 Parliament attack and the recent fidayeen strike in Pulwama, as "Masood Azhar ji" while addressing party cadres at a meeting in New Delhi. PM Narendra Modi 'Bowed' Before China And Said 'Keep Doklam', Alleges Rahul Gandhi.
Union Minister Smriti Irani, including a host of BJP leaders have objected to Rahul Gandhi calling Masood Azhar as "ji"- a suffix added after names in Hindi which shows respect to the person addressed.
Smriti Irani said in her comment that the "nation is shocked Rahul Gandhi addressed a terrorist Masood Azhar with respect. Families of martyrs and people who lost their relatives in terrorist attacks want to ask him, why so much respect for a terrorist?Why he calls the Army chief a "gunda" while respects a terrorist?"
Union Law Minister Ravi Shankar Prasad shared the video showing Rahul Gandhi saying "Masood Azhar ji" while giving his speech.
Watch the Video Below:
Come on "Rahul Gandhi Ji"!

Earlier it were the likes of Digvijay Ji who called "Osama Ji" and "Hafiz Saeed Sahab".

Now you are saying "Masood Azhar Ji".

What is happening to Congress Party? pic.twitter.com/fIB4FoOFOh

— Ravi Shankar Prasad (@rsprasad) March 11, 2019
Earlier today, Congress President Rahul Gandhi, speaking to party cadre in Delhi's Talkatora stadium, attacked Prime Minister Narendra Modi for the handling of Doklam issue and said that PM Narendra Modi "bowed before China with folded hands and said keep Doklam and that no one in India will come to know and the media will be tackled. Matter over. This is the reality of Modi ji." Gandhi also said that during the time of Doklam stand-off, when relations between India and China came to a standstill, "PM Modi went to China and held a meeting without agenda."