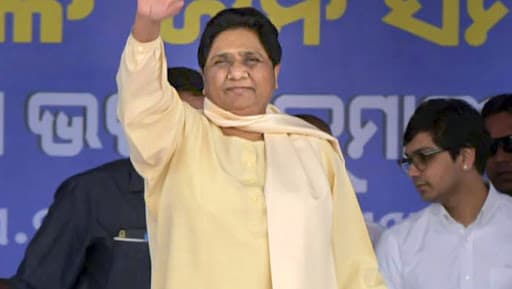 Lucknow, June 04: A day after Bahujan Samaj Party (BSP) reviewed 2019 Lok Sabha election results, party supremo Mayawati on Tuesday announced that her party will contest on 11 assembly seats in the upcoming bypoll in Uttar Pradesh. Addressing a press conference, Mayawati said, "It's not a permanent break. If we feel in future that SP Chief succeeds in his political work, we'll again work together. But if he doesn't succeed, it'll be good for us to work separately. So we've decided to fight the by-elections alone." BSP, SP Divide Seats in Uttar Pradesh For 2019 Lok Sabha Elections: Check Full List of Constituencies.
However, reports surfaced that the SP will contest the bypolls in alliance with the Rashtriya Lok Dal (RLD). Mayawati also praised Akhilesh Yadav the way he and his family treated her. She said, "Ever since SP-BSP coalition took place, SP Chief Akhilesh Yadav and his wife Dimple Yadav have given me a lot of respect." Mayawati further added that she has also forgot all our differences in the interest of the nation, and gave them respect to Akhilesh Yadav and his family. The BSP chief stated, "Our relation isn't only for politics, it'll continue forever." BSP to Snap Ties With SP? Mayawati Discusses 2019 Lok Sabha Election Results With Party Leaders.
Meanwhile, BSP's review meeting was held at party headquarters in Lucknow to review the results of the Lok Sabha elections. Mayawati was of the opinion that the alliance with the Samajwadi Party did not yield results because the Akhilesh Yadav led party failed to cut into the Yadav votes. In these general elections, the BSP increased its tally from zero to 10, while the number of seats of the SP remained the same.