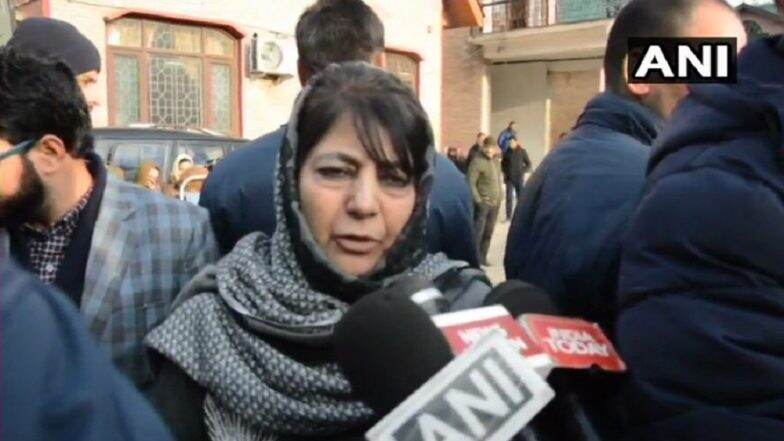 Srinagar, April 22: PDP chief Mehbooba Mufti, reacting to Prime Minister Narendra Modi's remark on the alleged "nuclear button" threat by Pakistan and his subsequent comment that "Have we (India) kept our Nuclear Bombs for Diwali," said that "Pakistan is also not preserving the nukes at its disposal for Eid." She also added that "such threats always invites more threats" and advised the countries to refrain from nuclear threats. Parvez Musharraf Warns Pakistan of India's Nuclear Power, Says 'If We Attack With 1 Nuke, India May Finish Us With 20'.
Addressing an election rally in Rajasthan on Sunday, the Prime Minister said that security and intelligence agencies earlier used to warn that "Pakistan had the nuclear button." PM Modi, asserting India's nuclear might, then said at the rally that "What do we have then? Have we kept our nuclear bomb for Diwali." Post-UNSC Statement on Kashmir, US President Donald Trump Calls Situation 'Very Very Bad And Dangerous' Between India and Pakistan. 
A day later, Mehbooba Mufti reacted to the Prime Minister's comment. Read Mufti's comment in the tweet below:
Mehbooba Mufti, PDP on PM Modi's remark, 'Every other day they (Pakistan) used to say "We've nuclear button, we've nuclear button".....What do we have then? Have we kept it for Diwali?': Jo Pakistan ke pass honge, vo bhi Eid ke liye nahi rakhe honge. Yeh hisaab baraabar hota hai. pic.twitter.com/disWzMy8f3

— ANI (@ANI) April 22, 2019
The Prime Minister had made the comments in an election rally in Rajasthan's Barmer district. He had also criticised the Congress and said that the party had missed a "golden opportunity" of resolving the Kashmir issue. "The then Congress government missed the opportunity and spoiled everything in the Simla Agreement and we are still facing its consequences. Imagine if I had been there at that time," said PM Modi.