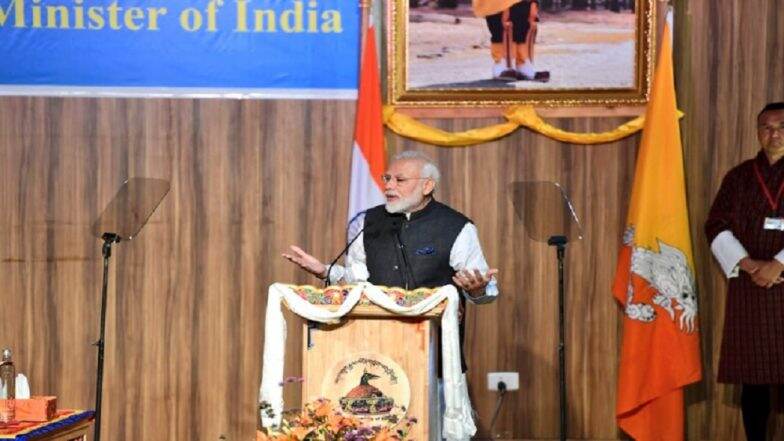 Thimpu, August 18: India's Prime Minister Narendra Modi on Sunday addressed students at the Royal University of Bhutan in Thimphu. In his speech, PM Narendra Modi lauded "bond of learning" between India and Bhutan and asked the "brightest minds" of Bhutan to work hard and take the Himalayan nation to great heights. He also said that his writings are influenced by Lord Buddha.
"It is natural that the people of Bhutan and India experience great attachment to each other, as we are close not just due to our geography. Our history, culture and spiritual traditions have created unique and deep bonds between our peoples and nations," PM Modi told students at the Royal University of Bhutan. He said the two countries share a bond of learning as many Indians came to Bhutan as teachers. PM Narendra Modi Launches RuPay Card in Bhutan, Issues Joint Statement With Lotay Tshering.
"The bond of learning between us is as modern as it is ancient. In the 20th century, many Indians came to Bhutan as teachers. Most Bhutanese citizens of older generations would have had at least one India teacher during their education," PM Modi said. He praised Bhutanese for their hospitality, saying: "Whoever visits Bhutan is struck as much by its natural beauty as by the warmth and simplicity of its people." PM Modi Arrives in Bhutan, Says 'Deeply Touched' by Lotay Tshering's Gesture of Receiving Him at Airport.
"Bhutan has understood the spirit of harmony, togetherness and compassion. This very spirit radiated from the adorable children who lined the streets to welcome me yesterday. I will always remember their smiles," the prime minister added. He encouraged students to become scientists and innovators and said India is looking forward to co-operating with Bhutan extensively in areas from school to space.
"There is no better time to be young than now," PM Modi told students. "We inaugurated the Thimphu Ground Station of the South Asia Satellite and expanded our space cooperation. Through satellites, benefits of telemedicine, distance education, resource mapping, weather forecast and even warning of natural disasters and reach even remote areas," he added.