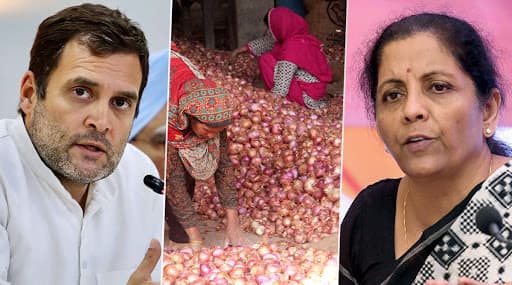 Mukkam (Kerala), December 5: Hours after former Union Finance Minister P Chidambaram took a jibe at current Finance Minister Nirmala Sitharaman, Congress leader Rahul Gandhi called her 'incompetent' after her remark on onion prices. Gandhi was also of the opinion that Sitharaman has 'no idea on what is going on' in the country. Calling Sitharaman 'arrogant', the Congress leader stated that UPA believed in putting competent people in charge of the economy.
Addressing a gathering in Mukkam of Kerala, Gandhi attacked the Union Finance Minister and said, "Finance Minister's job is not to tell India what she eats. And the fact of the matter is she has no idea on what is going on. Basically, she is incompetent. UPA believed in putting competent people in charge of the economy." P Chidambaram Jabs Nirmala Sitharaman For 'I Don't Eat Onions' Remark, Asks Whether She Consumes Avocado.
Adding more, he said, "Everybody knows the state of the economy in India today. India's biggest strength, something that UPA built over 10-15 years, has been destroyed. Finance Min of the country is asked about onion prices&she has that arrogance to answer that she doesn't eat onion or garlic."
The Congress leader was commenting on Sitharaman's reply to a question in Parliament which was asked by NCP MP Supriya Sule on the rising prices of onions in the country and what the government is doing about it. The FM had then said, "I don't eat a lot of onion and garlic, and I come from a family that doesn't care much for onions." Onion Price Rise Row: Nirmala Sitharaman Says 'I Don't Eat a Lot of Onions & Nor Does My Family' in Parliament, Watch Video.
Taking a jibe at the comment, P Chidambaram had said on Thursday, "The Finance Minister yesterday said she and her family are away from onions, they don't eat. What kind of approach is this towards the people? Is she attempting to put the onus of price rise on 'you onion-eating people'?" Adding more, he asked, "What does she eat? Does she eat avocado? She does not eat onions."
Apart from this, even Samajwadi Party MP Azam Khan took a jibe on Sitharaman. He said, "Stop eating onions, what is the compulsion to eat it? Our Jain brothers don't eat. Stop eating onions, stop eating garlic, stop eating meat, everything will be saved. A Queen had once said 'if they don't have bread then let them eat cake." Onion Prices On Rise, Azam Khan Goes Sarcastic: 'Stop Eating Onions, Stop Eating Garlic, Stop Eating Meat'.
It is to be known that onion prices are nearing Rs 150-mark in some parts of the nation as demand continues to outmatch the supply. The country is importing the bulb vegetable from Iran and Turkey in bid to check the prices.