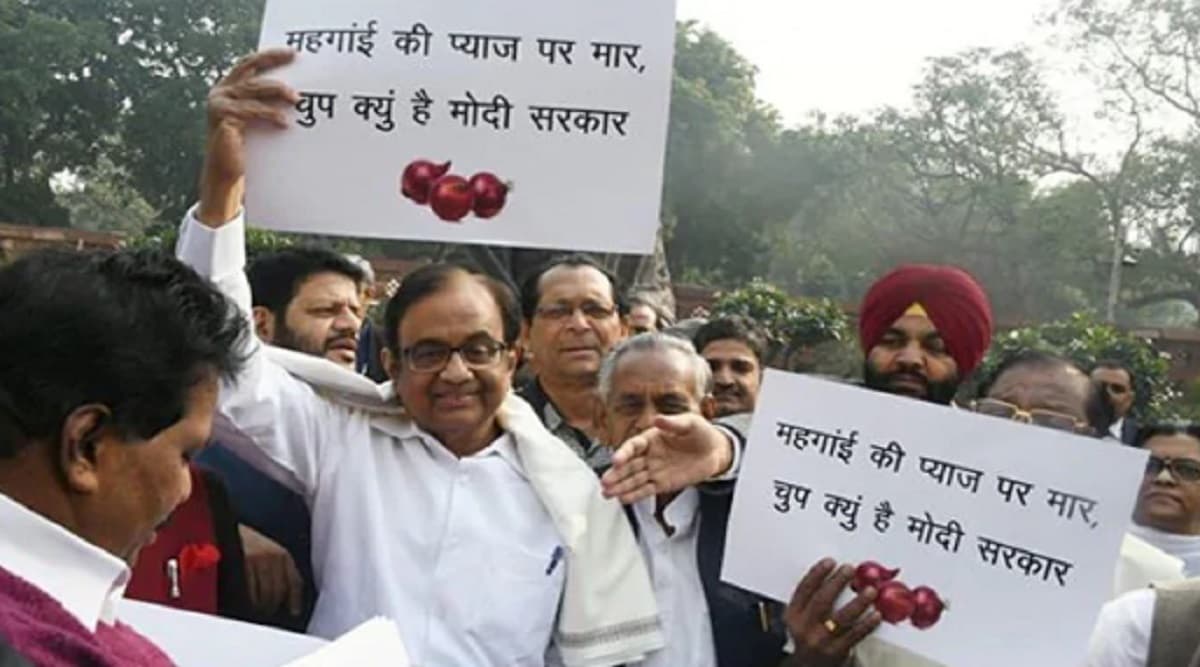 New Delhi, December 5: Former Union Finance Minister P Chidambaram joined the Congress protest outside Parliament on Thursday against the rising onion prices. The veteran party leader was seen at the forefront of protests holding placards and raising slogans. Chidambaram also picked on Finance Minister Nirmala Sitharaman for her flak-generating statement in the Lok Sabha over the rising onion prices. Onion Price Rise Row: Nirmala Sitharaman Says 'I Don't Eat a Lot of Onions & Nor Does My Family' in Parliament, Watch Video.
"The Finance Minister yesterday said she and her family are away from onions, they don't eat. What kind of approach is this towards the people? Is she attempting to put the onus of price rise on 'you onion-eating people'?" Chidambaram said at a press conference in the national capital earlier today.
Chidambaram further sought to know if Sitharaman consumes avocado, which costs way higher than onions. The vegetable is exported and priced between Rs 350-400 kg in the Indian market. "What does she eat? Does she eat avocado? She does not eat onions," the senior Congress leader added.
Onion prices are nearing Rs 150-mark in some parts of the nation as demand continues to outmatch the supply. The country is importing the bulb vegetable from Iran and Turkey in bid to check the prices.
Sitharaman, while speaking in the Lok Sabha on Wednesday, stoked a row saying that she and her family abstain from the consumption of onions. Her remarks were followed by a similar statement by another Union Minister, Ashwini Kumar Choubey, who said he is unaware about the onion prices as his family does not consume the vegetable.