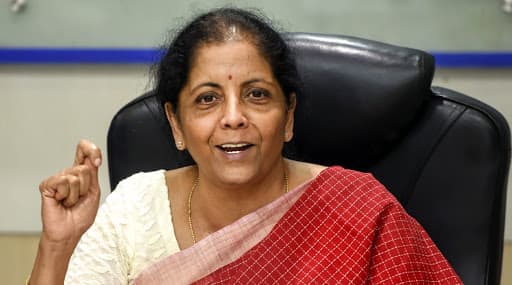 New Delhi, December 5: The entire country is affected by the rising onion rates as the staple diet in the kitchen goes missing from the majority of the houses. Finance Minister Nirmala Sitharaman said that the rising rates of onions have not affected her personally because the vegetable is not part of her family's diet.
According to an ANI tweet, the FM said "I don't eat a lot of onion and garlic and  I come from a family that doesn't care much for onions," when an MP intervenes and asked her 'Do you eat onions?' while she was answering NCP's Supriya Sule's question on production and price of onions. Onion Price Hike Gets Made Into Funny Memes! These Jokes and TikTok Videos Will Give a Respite From The Pinch in Your Pocket, Or Maybe Not!
Check video:
#WATCH: FM Sitharaman says "Main itna lehsun, pyaaz nahi khati hoon ji. Main aise pariwar se aati hoon jaha onion, pyaaz se matlab nahi rakhte" when an MP intervenes&asks her 'Aap pyaaz khaate hain?' while she was answering NCP's Supriya Sule's ques on production&price of onions. pic.twitter.com/i6OG7GN775

— ANI (@ANI) December 4, 2019
According to an NDTV report, this exchange took place when the Finance Minister was talking about the various measures adopted by the central government to tackle the price rise. From imposing a ban on exports, enforcing a stock limit, importing the produce from abroad, and transferring onion from surplus to deficit areas within the country.  The prices have shot up to as high as Rs 150 in Kolkata and have crossed Rs 120 in a majority of the states in the country.