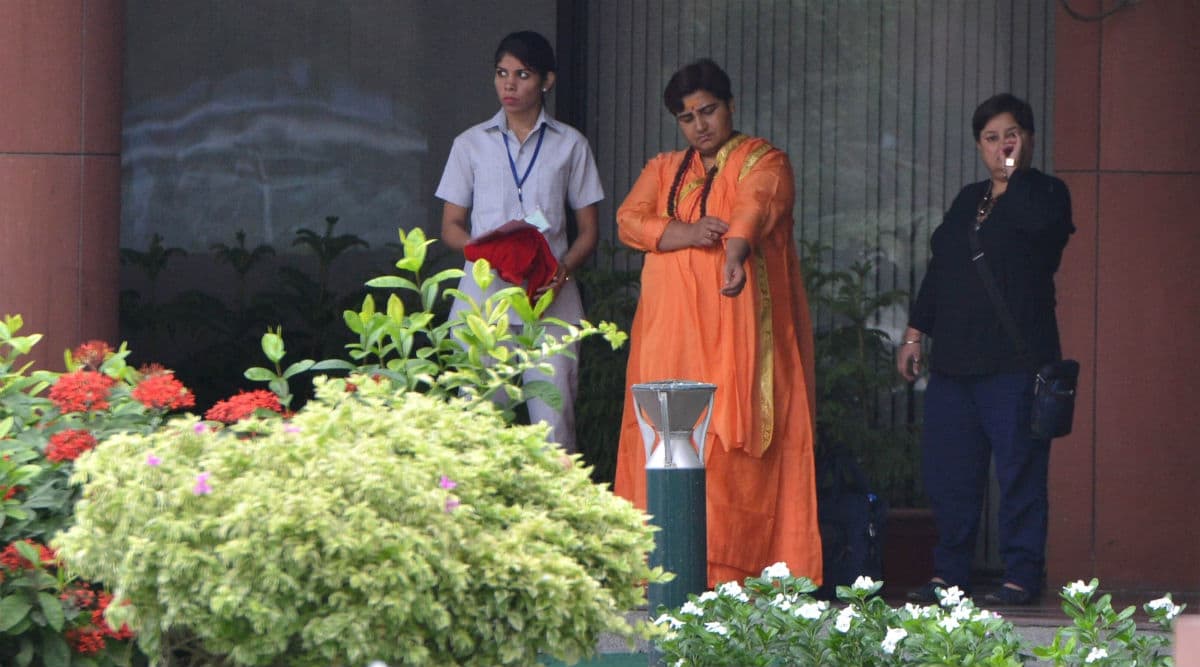 New Delhi, November 29: Bharatiya Janata Party (BJP) MP Pragya Singh Thakur on Friday was forced to apologise twice for her statement on Nathuram Godse, the assassin of Mahatma Gandhi in the Lok Sabha. Soon after Pragya Thakur concluded reading out a written apology, her microphone was muted. Speaking in Lok Sabha on Wednesday, Thakur hailed Nathuram Godse, triggering widespread condemnation. Pragya Thakur Blames Opposition for Deaths of BJP Leaders Arun Jaitley and Sushma Swaraj, Says Party Is Facing a Bad Time and Is Under Evil Spell; Watch Video.
After Pragya Thakur's first apology failed to assuage agitating Opposition MPs, she was given a prepared statement to read out that was agreed to by the floor leaders of all parties in Speaker Om Birla's chambers. She went off the script as she began reading out the statement. The Speaker then interrupted and asked her to stick to the written statement. As soon as she completed reading out the written apology, her microphone was cut off. Congress MLA Govardhan Dangi Threatens to Burn Alive BJP MP Pragya Singh Thakur; Apologies.
"I did not call Nathuram Godse a desbhakt during the discussion on the SPG Bill on November 27. I didn't take his name, even though, if someone is hurt, I regret and apologise," Thakur said in her second apology. She continued saying something but it remained inaudible. In her earlier apology, the Bhopal lawmaker alleged that her statement was "wrongly interpreted and twisted", which triggered another row in the House.
"In the backdrop of past sequence of events, I express regret and apologies if any statement made by me in the House has hurt anybody in any way. But, I also want to say that my statement made in Parliament was wrongly interpreted and twisted," Thakur said earlier. Her apology made in Hindi followed a ruckus in the House with the entire opposition, including Congress, TDP, RSP, DMK, BSP and SP, trooping near the Speaker's podium demanding her "unqualified apology".
Thakur then tendered her apology for the second time during zero hour. The accused in the 2008 Malegaon bomb blast case on Wednesday sparked a row with her remarks in Lok Sabha during DMK leader A. Raja's reference of a statement by Godse before a court on why he killed Mahatma Gandhi. Raja had cited Godse's statement during a discussion on the Special Protection Group (Amendment) Bill, 2019, to which Thakur reacted.