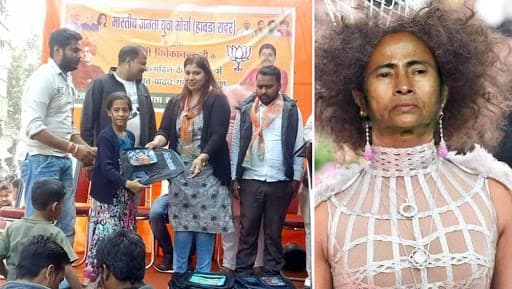 New Delhi, May 14: The Supreme Court on Tuesday granted bail to Bharatiya Janata Party (BJP) youth wing worker Priyanka Sharma after she tendered a written apology for putting objectionable picture of Trinamool Congress (TMC) supremo and West Bengal Chief Minister Mamata Banerjee on social media. The court, however, directed Sharma's counsel NK Kaul to ask her to apologise for the controversial caricature "immediately upon her release".
A vacation bench comprising justices Indira Banerjee and Sanjiv Khanna on Monday took note of the plea of advocate N.K. Kaul, representing the activist, that the issue of her arrest be accorded urgent hearing. The court also issued notice to West Bengal police over the way the 25-year-old was taken into custody. BJP Worker Held for Posting a Morphed Image of Mamata Banerjee and Naveen Patnaik. 
Here's the tweet:
#UPDATE Supreme Court calls back Sharma's lawyer NK Kaul and modifies it's order and waives off condition of apology. #PriyankaSharma will be released immediately. https://t.co/q2mfzFQTaS

— ANI (@ANI) May 14, 2019
"Subject to Priyanka Sharma tendering an apology in writing for putting up an objectionable picture on Facebook account, she shall be immediately released. At the time of release, she shall tender an apology in writing," a vacation bench said in its order.
Sharma was arrested last week on May 10 and was picked up by the police from her home. She has been sent to two weeks' judicial custody. The BJP worker, against whom a complaint was filed at Dasnagar police station, was sent to two weeks' judicial custody. Sharma's arrest was followed by protests from the BJP and other social media users.
Sharma a BJP Yuva Morcha leader, allegedly shared on Facebook a photo in which Banerjee's face was photoshopped on to actor Priyanka Chopra's picture from the MET Gala event in New York. Sharma has been charged under Section 500 of the Indian Penal Code (defamation), sections 66A (offensive messages) and the non-bailable 67A (punishment for publishing or transmitting of material containing sexually explicit act, etc. in electronic form) of the Information Technology Act.