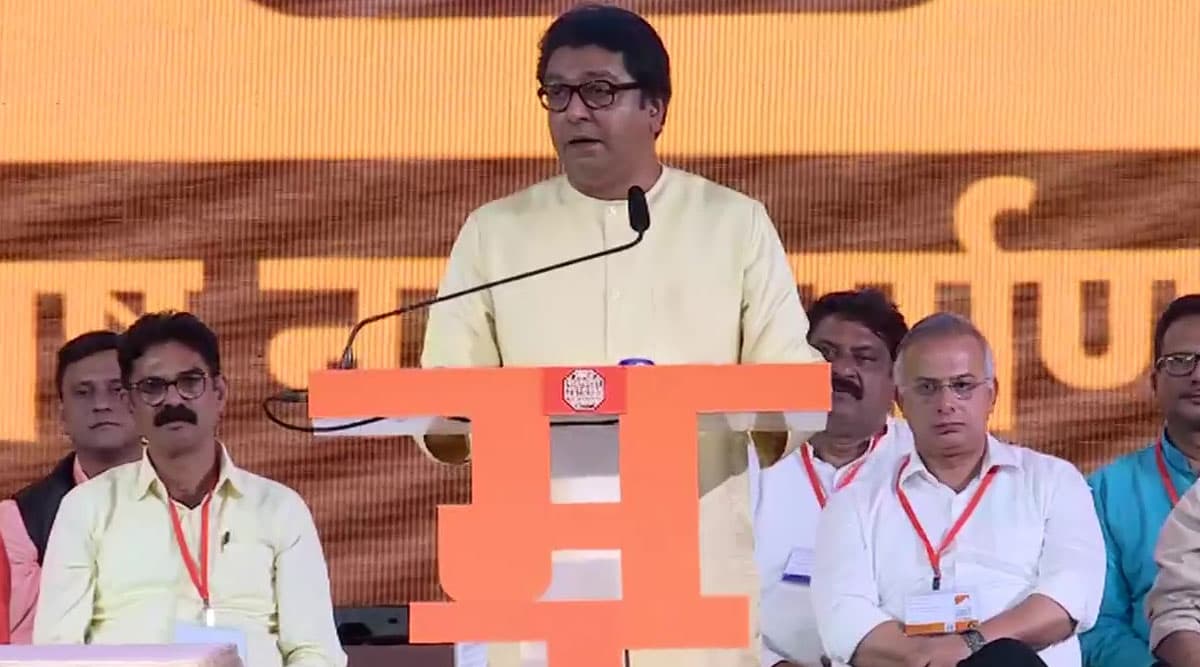 Mumbai, January 23: Raj Thackeray, hours after his party unveiled a new flag on Thursday, said that the Maharashtra Navnirman Sena will take out a march in support of the Citizenship Amendment Act. The MNS leader said that the "protests taking place against CAA need to be countered by protests." In a marked difference from his stand during the 2019 Lok Sabha Elections, where he opposed PM Narendra Modi and Amit Shah's policy tooth and nail, the MNS chief said that his party supports the Centre in weeding out "illegal Muslim immigrants from Pakistan and Bangladesh." Raj Thackeray's MNS Gets New Party Flag Ahead of Mega Meet in Mumbai Today; See Pic.
MNS chief Raj Thackeray on Thursday indicated he is all set to carry forward uncle Bal Thackeray's legacy, by introducing the new flag and his son Amit Thackeray into politics on the day of 94th Birth Anniversary of Balasaheb Thackeray.
The MNS chief was addressing a rally of his party in Goregaon, part of Mumbai suburban area, on the occasion of the late Shiv Sena supremo's birth anniversary. "There can be a debate on the Citizenship Amendment Act but why should we shelter someone who has come to India illegally from outside," Raj Thackeray said.
"I dont change colour of my party to form the government," he said, taunting estranged cousin Uddhav Thackeray, who with help of Congress and NCP formed the new government in Maharashtra in November last year. The new MNS flag bears the Raj Mudra (royal seal) of Chhatrapati Shivaji Maharaj and appears to spell out the new direction that his party looks set to take.
Read the Tweet Below
Raj Thackeray, Maharashtra Navnirman Sena (MNS) chief, in Mumbai: We will take out a huge rally on 9th February to drive illegal infiltrators, from Pakistan and Bangladesh, out of India. https://t.co/EuQq9JQBf9

— ANI (@ANI) January 23, 2020
Earlier today, president of MNS Cinema Wing Amey Kholkar tweeted in Hindi, "Jay Hindawi Swarajya." Experts said that Raj Thackeray's motivation behind changing the flag of his party is to energise the cadre and go after the Marathi vote bank with all gusto. The MNS has time and again alleged that the Shiv Sena has forgotten its core voters, the "Marathi manoos" or the son of the soil. The saffron flag is also an attempt by MNS to grab the politics of Hindutva and an indication to the BJP that an alliance is possible between the two parties.