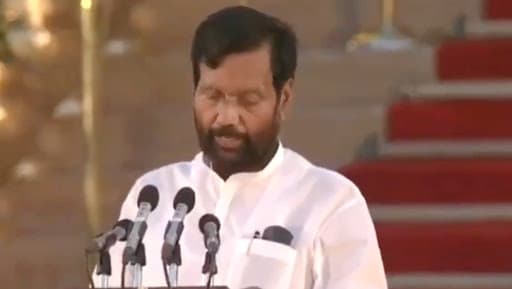 New Delhi, May 30: Outgoing Union Minister Ram Vilas Paswan took oath as Minister in Prime Minister Narendra Modi's cabinet for the second consecutive term on Thursday. With this, he has become the key minister in PM Modi's Cabinet second time in a row.
Ram Vilas Paswan is president of Lok Janshakti Party in Bihar and is a key ally in the National Democratic Alliance. Though he fought Lok Sabha elections in 2014, he didn't stand for the elections in 2019 as he had become the Rajya Sabha parliamentarian.
In the previous tenures, he was appointed as Union Minister of Consumer Affairs, Food and Public Distribution. Earlier, he also served as Minister of Chemicals and Fertilizers, Ministry of Mines, Ministry of Railways, among others.
With his good work in the last years and his closeness with Prime Minister Narendra Modi, it is expected that he might get the same portfolio again.