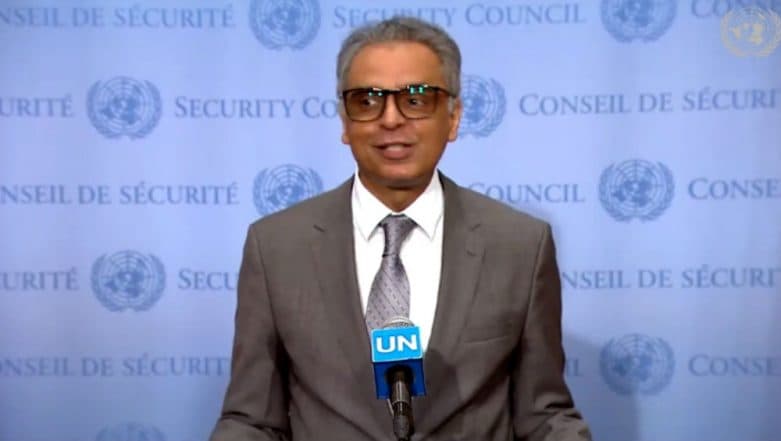 New York, September 11:  India's Permanent Representative Syed Akbaruddin made a veiled attack on Pakistan for providing safe havens to terrorists on its soil. Speaking on the United Nations' Assistance Mission in Afghanistan (UAMA) on Wednesday, Syed Akbaruddin said that safe havens enjoyed by terror outfit from beyond Afghanistan's borders must be addressed. The remark came a day after India rebutted Pakistan's allegations of human right violations in Jammu and Kashmir. India Rejects Pakistan's Claims of Human Rights Violation in Jammu And Kashmir at UNHRC Meeting, Calls Islamabad 'Epicentre of Terrorism'.
"Support and safe havens enjoyed from beyond Afghanistan's borders by groups such as Taliban, Haqqani Network, Da'esh, as well as Al Qaeda and its proscribed affiliates, including Lashkar-e-Taiba and Jaish-e-Mohammed, must be addressed," Akbaruddin said. The envoy said that India supports UN Secretary-General's call for direct talks between the Afghan government and the Taliban. Pakistan Foreign Minister Shah Mehmood Qureshi Terms Jammu & Kashmir as Indian State After His Speech at UNHRC, Watch Video.
India's Permanent Representative Syed Akbaruddin Making Statement on Afghanistan at UN:
Rare cricketing feat symbolic of the many gains made by people of Afghanistan - @IndiaUNNewYork

C statement https://t.co/2JRcte8M8C pic.twitter.com/mg636gO8Za

— Syed Akbaruddin (@AkbaruddinIndia) September 11, 2019
"It is the Afghan people who will implement and bear the consequences of any agreements arrived at. Hence, outcomes which have constitutional legitimacy and political mandate and are arrived at in an inclusive and democratic way alone can ensure stability. We, therefore, support Secretary-General's call for direct talks," Akbaruddin said.
"International community needs to continue its support by fulfilling the commitments made to the Afghan security forces in their fight against the scourge of terrorism," he added. On Tuesday, UN Secretary-General Antonio Guterres reiterated his call for direct talks between the Taliban and the government, which the Taliban has rejected.
Guterres said that the US-Taliban talks, a dialogue between Afghan parties in Qatar and strengthened efforts "to build a regional consensus on peace have given rise to cautious optimism that a formal peace process may soon begin".
In a separate development, India tore into Pakistan at the UN Human Rights Council (UNHRC) on Tuesday for raking up the Jammu and Kashmir issue, saying a country with a "gory record" on human rights had presented "false" and "concocted" narrative and asserted that New Delhi will accept no foreign interference in the internal matter.