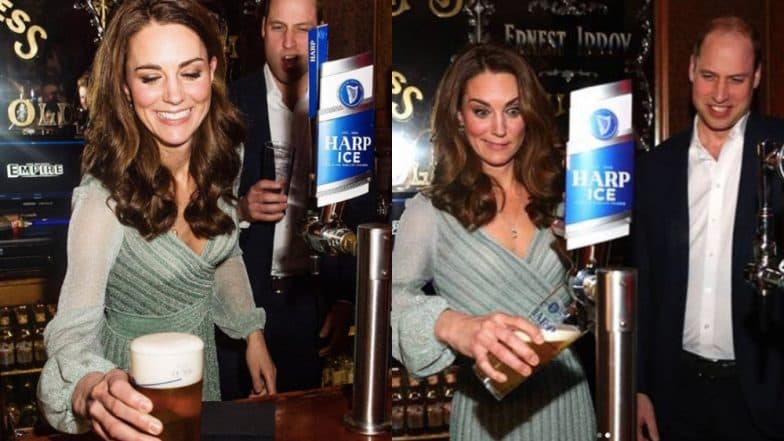 Have you ever been served a pint of beer by a Royal bartender? Well, some people in Belfast, Ireland got lucky recently as Kate Middleton and Prince William tried their hands at bartending at the Empire Music Hall. The Duke and Duchess of Cambridge, have been on a two-day tour in Northern Ireland and have had a string of engagements to attend. On Wednesday night, the Duchess stepped out in a gorgeous green dress by Missoni. The Royal couple then got behind the bar at Empire Music Hall's event which celebrated the work of young people making a difference in Northern Ireland in business, arts and sports sectors.
Baron and Lady Carrickfergus, as they are known in Northern Ireland, spent their first day on their visit to Windsor Park where they learnt about Irish Football Association's community Football projects. Later, the couple visited County Fermanagh's youth centre and concluded the first day at the Empire Music Hall party. BAFTA Awards 2019: Kate Middleton Wore Princess Diana's Gorgeous Earrings At The Red Carpet; See Picture.
Kate Middleton serves a pint of beer:
Kate was clicked happily serving a pint of Harp Lager, an Irish staple while the crowd went into applause with Prince William standing beside her behind the bar counter. After all the engagements they had earlier in the day, the Royal couple did deserve to have some fun.
Here's the video of Kate Middleton bartending at Empire Music Hall:
🍺 Getting the party started at @BelfastEmpire, where The Duke and Duchess of Cambridge are celebrating young people who are making a real difference in Northern Ireland #RoyalVisitNI pic.twitter.com/JFnIPdy9do

— Kensington Palace (@KensingtonRoyal) February 27, 2019
Overall, the Duke and Duchess have been enjoying a great time in Ireland as they received an extremely warm welcome. The Royal couple's second day has been a packed one as well as they met police officers & staff at Hillsborough Castle.