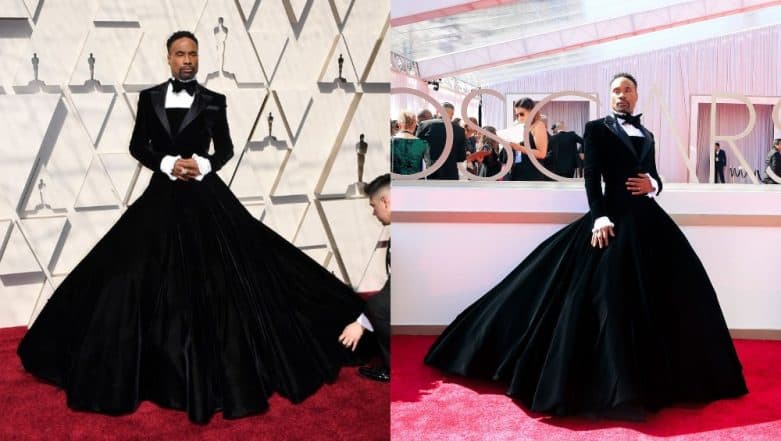 Pose actor Billy Porter is currently the big winner at the red carpet of the 91st Academy Awards! Wearing something more unique than his Golden Globe appearance, this time Porter has got the attention of netizens who just cannot get over his poise and elegant look. It is no surprise that he is raking in so much love for his look considering how you don't always see a man rock a gown with so much elegance.
Strutting at the red carpet in an insanely gorgeous black velvet tuxedo gown by Christian Siriano, Billy Porter let his gown do all the talking. Twitterati is in agreement that Porter is the single-most best thing about the red carpet at the Oscar 2019. None of us missed the 20-carat diamond ring on his finger too which is apparently valued at a whopping $900,000.
Well, with a diamond ring so fine and a gown that oozes panache, Porter has easily become the best thing to happen to the red carpet in the ongoing awards function. The red carpet of the Oscar's has often been the ideal breeding ground of impeccable and standoffish style. The whole play on acceptance and celebration of masculinity and femininity exhibited by his outfit is such a refreshing take on red carpet styles.
Slaying it in style:
Speaking of the outfit, Porter told Vogue, "I've always wanted to wear a ball gown, I just didn't know when. I was inspired [this past New York Fashion Week] because there's a conversation happening about inclusion and diversity. There were so many people of different races and voices. At Palomo Spain, genderless boys floated down the runway in gorgeous chiffon dresses and capes. It was lovely. Fashion has the ability to touch people in a different way. I also went to Christian Siriano's show."
"I've loved him ever since he was on Project Runway. He was the first person who understood that everybody wears clothes—not just size zeros. He's become the go-to person for all of the Hollywood women who are rejected by the fashion industry. The fashion industry rejects you if you're above a size four, it's ridiculous! I've always wanted to work with [Siriano]. I got this Oscars gig [hosting a red carpet pre-show], and at his party after the show, I just dropped it in his ear and said, "Do you think you'd have time to make me a gown?" And he said, "AAAAA-BSOLUTELY, " he continued.
Check out the Academy Awards' tweet:
On his way to appearing on our @ABCNetwork #Oscars red carpet show, @theebillyporter stopped to "pose" for this shot. pic.twitter.com/EF0bqDOpd8

— The Academy (@TheAcademy) February 24, 2019
He further added, "We wanted to play between the masculine and the feminine. This look was interesting because it's not drag. I'm not a drag queen, I'm a man in a dress. He came up with a tux on the top and a ballgown that bursts out at the bottom. I wore it with Rick Owens shoes. Rick is very gender-bending and rock'n'roll. It's a high, 6-inch chunky boot that makes me feel really grounded. And I rocked some Oscar Heyman fine jewellery with it. They're known for coloured jewels and gemstones. I wore their brooches for my Golden Globes look."
How did the gown make him feel? Well, alive! "[At the first fitting in the gown,] I felt alive. I felt free. And open, and radiant. And beautiful! Which has not always been the case for me. I haven't always felt so good about myself. It really is astonishing how much of an affect clothes have on your spirit."