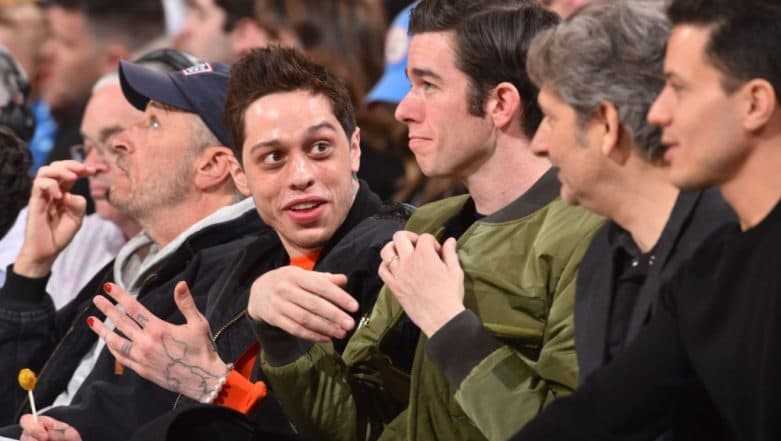 Every time Pete Davidson steps out, he makes a statement worth talking about. Sure, his romantic conquests and zany behaviour also make him news cycle's favourite topic. Currently, though, he has been talked about for sporting red nail polish during the Knicks vs Chicago Bulls game. We'd like you to know that the man doesn't feel shy about flaunting his manicured red nail colour.
Now Pete is a patent name in the sleazy fashion, whackadoo hair colours' department. But little did we expect him to rock manicured red nails with so much sass and panache. He sported red Essie nail polish which calls 'Size Matters'. While it does make us question whether he wore the red nail paint to honour Ariana Grande's 'big dick' comment. Although borrowing some fashion moves from women have been frowned upon and even called borderline effeminate, there are men changing the viewpoint of everyone by rocking feminine fashion.
You can check out Pete's look below and see for yourself how effortlessly he is pulling off the look.
Pete Davidson cheers on the Knicks from courtside seats - Daily Mail https://t.co/F6AxI3LXOj pic.twitter.com/Eop5RQgrzP

— Curb Your Enthusiasm (@CurbNews) April 3, 2019
Just so you know, in the past, many male celebrities have sported fashion accessories from the women's department. Take Jason Momoa's blush scrunchie at the Oscars and Justin Bieber's printed blue headband, they're all taking fashion picks from women without feeling emasculated. We are curious to know what his older girlfriend Kate Beckinsale has to say about his manicured fingers. Considering how Kate is into younger men who are adventurous, perhaps she approves of his new fashion rendezvous!