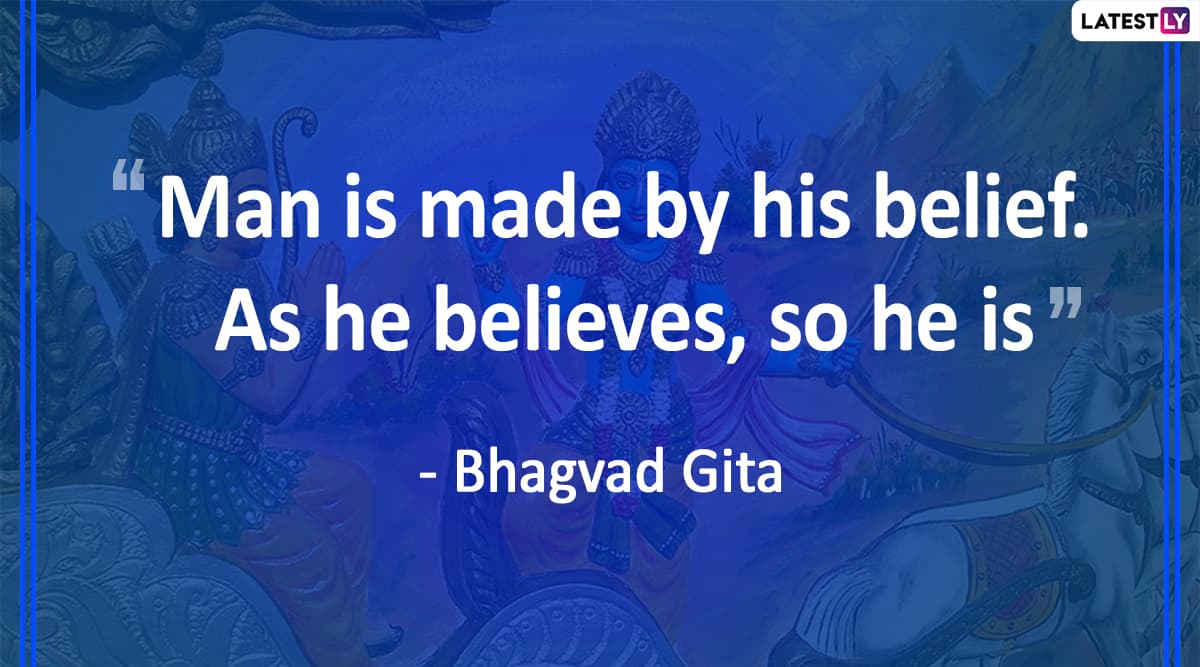 The Bhagavad Gita is a very sacred text which is part of the Hindu epic of Mahabharata. On every Shukla Ekadashi, the birthday of Bhagavad Gita is marked. Known as Gita Jayanti it will be celebrated on December 8 this year. Gita Jayanti is marked each year on the 11th day of waxing moon of Margashirsha month of the Hindu calendar. While the sacred text of Bhagvad Gita is revered by people of the Hindu community, even the ardent devotees of Lord Krishna mark this day. Bhagvad Gita mentions the conversation or the advice of Lord Krishna's and teachings to Arjuna, during the epic war. On Gita Jayanti, most people read through these verses, and discuss the teachings among fellow followers. So on this day, we give you some relevant quotes and sayings from this holy book. You can download these images for free and share them on Gita Jayanti 2019. Timeless Lessons by Lord Krishna from the Bhagavad Gita.
The Bhagavad Gita is revered as the Divine Mother because she teaches (in a non-sectarian and scientific manner) how to re-establish our lost relationship with God Almighty (The Supreme) by the followers of Lord Krishna. It is the most widely known Vedic literature in the world. To celebrate Gita Jayanti, people recall the lessons from this sacred scripture which are relevant even today. So we have compiled a few messages and quotes from this Holy book which are relevant even today. You can share these messages, images and quotes with your friends and family. Madhya Pradesh: Muslim Inmates of Gwalior Central Jail to Read Bhagavad Gita.
Bhagavad Gita Quotes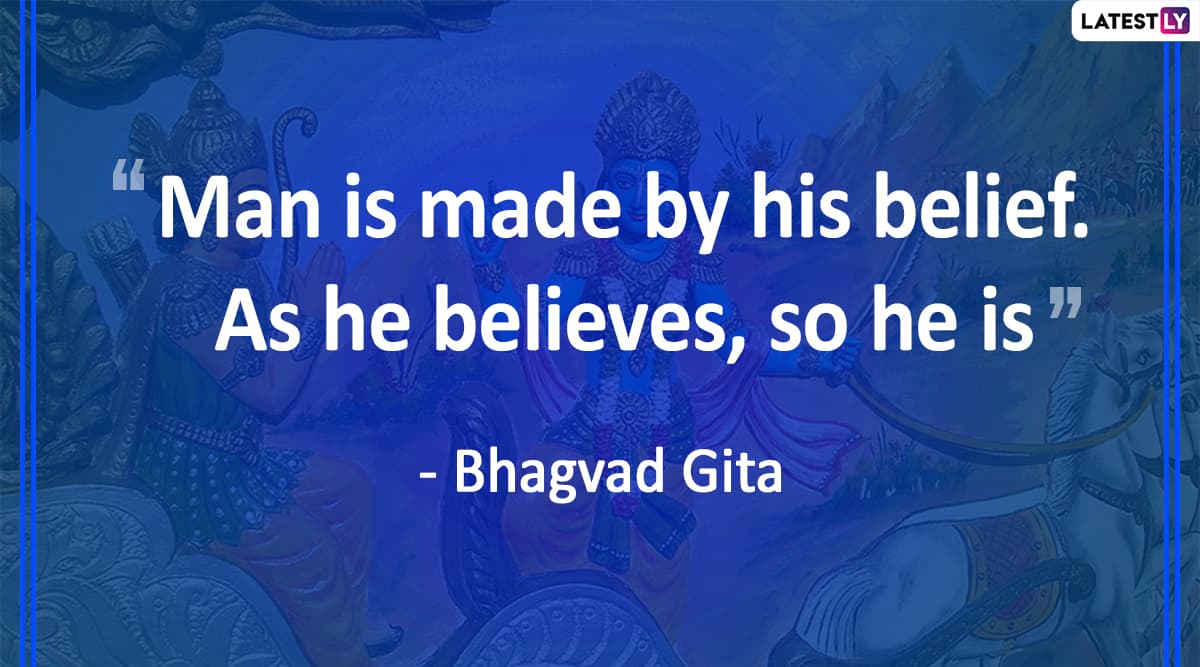 Quote reads: "Man is made by his belief. As he believes, so he is" -Bhagvad Gita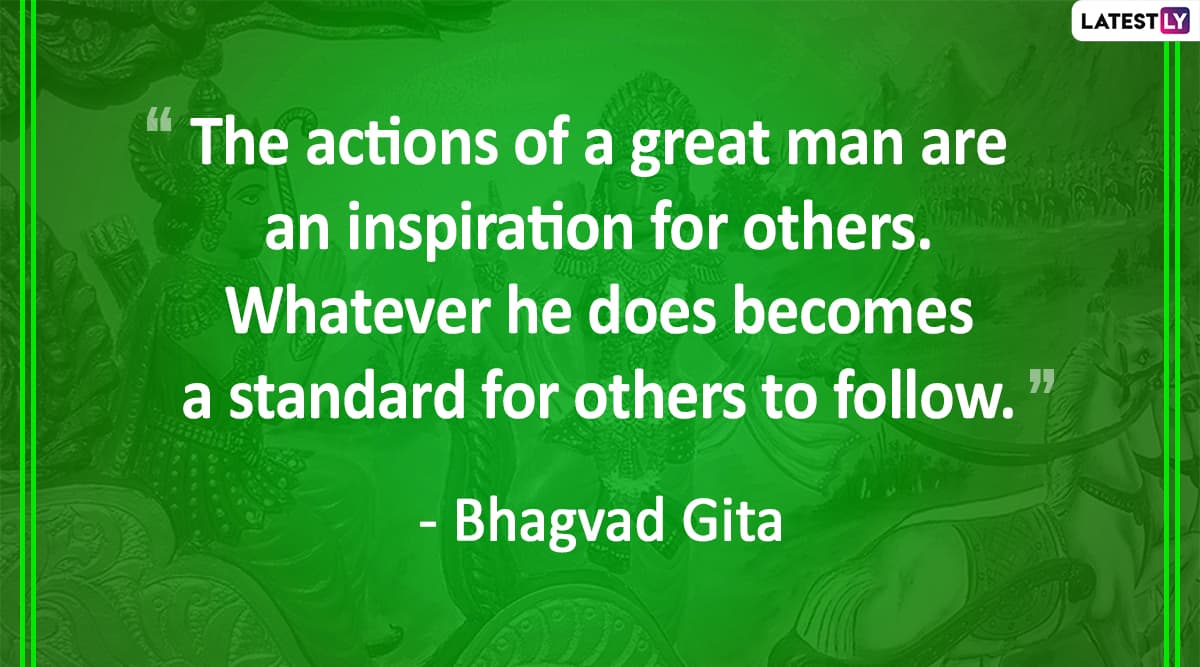 Quote reads: "The actions of a great man are an inspiration for others. Whatever he does becomes a standard for others to follow." - Bhagavad Gita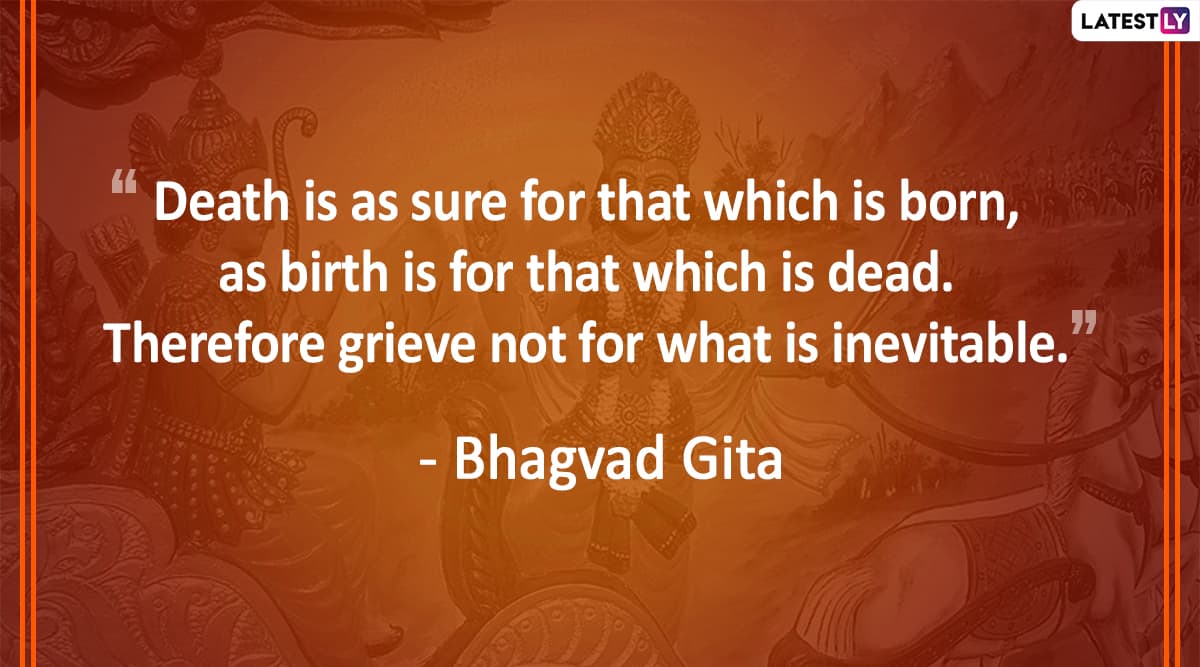 Quote reads: "Death is as sue for that which is born, as birth is for that which is dead. Therefore grieve not for what is inevitable." - Bhagavad Gita
Quote reads: "Hell has three hates: lust, anger and greed." - Bhagavad Gita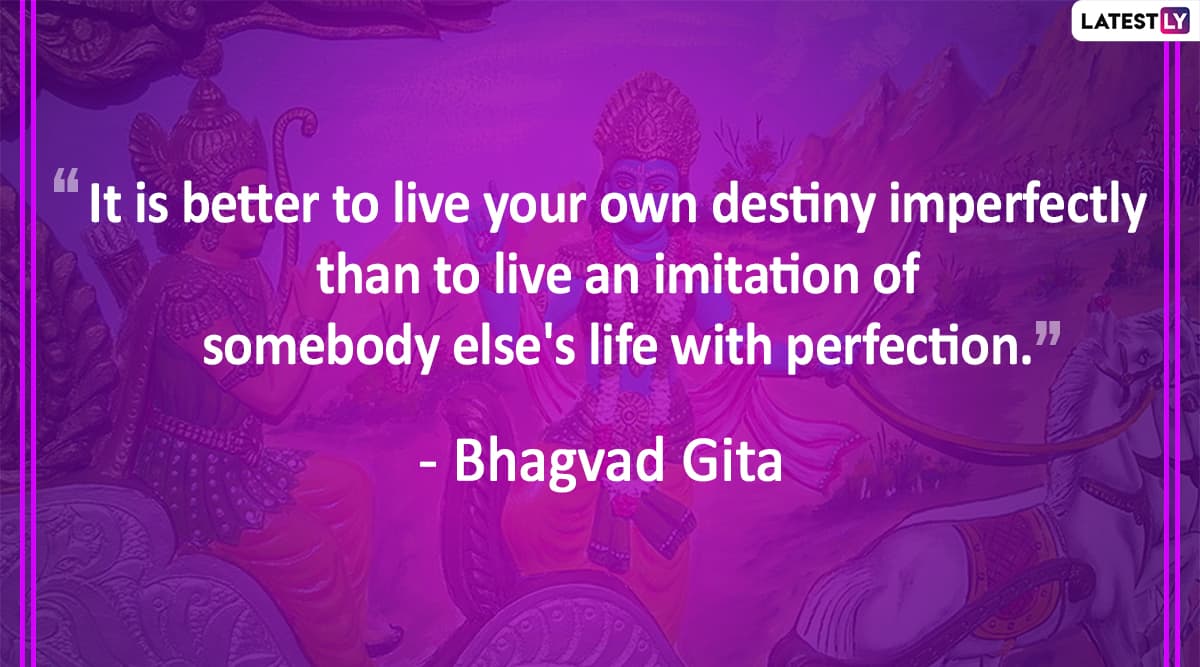 Quote reads: "Man is made by his belief. As he believes, so he is" -Bhagavad Gita
All of these quotes showcase the truth about man and mankind. They simplify  the importance of destiny, good actions and deeds, the aspect of death, and how to live one's life. It is also believed that, if one properly follows the instructions of Bhagavad gita, the person can be freed from all miseries and anxieties in this life. Several temples organise festive celebrations which see puja along with special prayers and recitation of Gita.