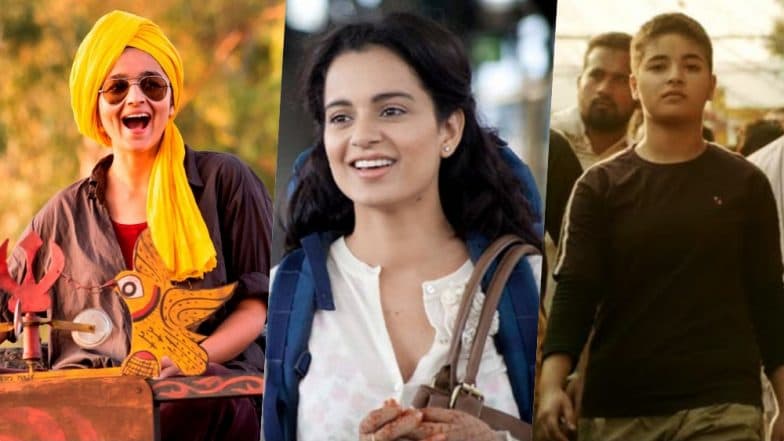 India celebrates National Girl Child Day on January 24 annually. The day is observed in the country to highlight the importance of a girl child. As you all know India has a serious sex ratio problem, be it at a rural level or urban. According to a study, there is an estimated 21 million 'unwanted girls' in India due to a preference for a male child. Yes, gender discrimination is for real. However, you may hear well-educated individuals talk about loving their daughters, deep down they are dying for a son. So, what does one do about it? Well, that's why days like National Girl Child Day exits and got to be celebrated with same zeal and excitement as we commemorate festivals and important events. One simple but effective way to kick-off any celebration is to play some kickass songs. Today, we bring you a lovely collection or a playlist of Bollywood songs celebrating womanhood, on women empowerment and feminism that will light up the important day. Happy National Girl Child Day 2019. National Girl Child Day 2019 Wishes: WhatsApp Stickers, Facebook Quotes, GIF Image Messages to Highlight the Importance of Girl Child.
Thanks to Bollywood for moving on from cliché sad romantic tracks to motivating, pumped up and badass songs for the woman. We need it. Songs have their own charm of conveying messages that everyday speeches fail to do. Through their impactful lyrics to tuneful music to soothing or hard-hitting voice, songs have been long delivering the powerful messages over the years. As we celebrate National Girl Child Day 2019, these songs will take you on a roller-coaster ride. If Shah Rukh Khan's Chak De girls make you want to dream big, Alia Bhatt's Veera will take you on a highway beyond the murky reality, and then you have Queen Kangana, who will make you fall in love with "Jugni." So, are you ready to take a plunge in some of the best songs that are all about celebrating women power? Let's begin, then. National Girl Child Day 2019: Know The Importance, Significance And Aim of the Day For Empowering Girls.
Patakha Guddi - Highway
Nooran Sisters, Sultana and Jyoti have sung the track titled "Patakha Guddi" in 2014 film Highway. Lyrically, the song describes freedom and holds abstracts of purity and wildness. This musical composition by AR Rahman will give you goosebumps as well as wings to fly… fly away from things you fear or that hold you back.
Aali Re, Sali Re - No One Killed Jessica
Once in a while, you come across a song that immediately lifts your spirits and "Aali Re, Sali Re" from 2011's No One Killed Jessica is one such track. Picturised on Rani Mukerji, the song shows the badassery of Rani's character Meera. The song is sung by an army of singers such as Sonu Kakkar, Raja Hasan, Aditi Singh Sharma, Anushka Manchanda, Tochi Raina, Shriram Iyer, Bonnie Chakraborty, Sonika Sharma.
Dhaakad - Dangal
"Mari Choriya Choro Se Kam Hai Ke." Thanks to Aamir Khan's Dangal, the idea that daughters are second to sons cemented. The 2016 film not only boasted of powerful dialogues but incredibly successful songs on girl power. "Dhaakad" sung by Raftaar is one song that every person must play on National Girl Child Day to know the real strength of female power.
Badal Pe Paon Hain - Chak De India
Another film that probably everyone should watch and learn from is Chak De! India. The film which begins by ridiculing female athletes (calling them good for nothing and should stick to their work in the kitchen) ends with them bringing the World Cup glory home. The film, it's songs, especially "Badal Pe Paon Hain" will resonate with girls who have put down by their very own people at different stages of life. Listen to this spirit-lifting song by Hema Sardesai.
Jugni - Queen
A girl in India grows up with a dream to get married. A girl in India grows up to be a confident soul who can travel freely, make best friends, drive, dance, and even burp. Basically, she can do whatever she pleases without seeking permission. In 2014 Queen (watch if you haven't already), Kangana's character Rani learns what she seeks from her life a little differently. Watch "Jugni" song from the film to get a quick understanding.
Bollywood movies are full of songs and videos on women empowerment that will motivate you to the core. It is important we understand the perils of gender discrimination and skewed sex ratio. It is time India understands that daughters and sons are equal. So stop treating a female child as a second class citizen. Let days such as National Girl Child Day evoke thoughts about your misdoings and rectify them ASAP.