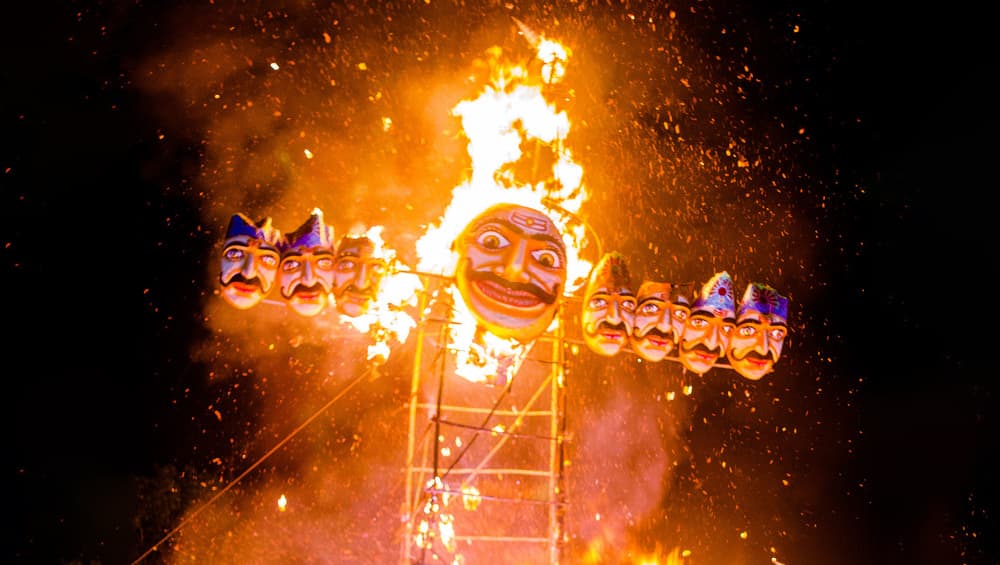 New Delhi, October 8: Prime Minister Narendra Modi is scheduled to celebrate Dussehra 2019 in the national capital, where he is invited at the chief guest at the Ravan Dahan ceremony at DDA Ground in Dwarka. Modi will fire the ceremonic arrow towards the Ravana, Kumbhkaran and Meghnath effigies. Scores of Hindu devotees and supporters of PM Modi would be gathering at the DDA Ground from all parts of Gujarat to witness the historic ceremony. Amritsar Dussehra Train Accident: Families of Victims Hold Protest March, Say No Justice Even After a Year.
The Ravan Dahan is organised in several parts of the nation on the day of Vijayadashami, as it culminates the ten days of festivities of Dussehra. On this day, Hindus commemorate the victory of Lord Rama against Ravana, the asura king who had held Sita as captive. After his victory over Ravana, Rama had returned to Ayodhya, ending his 14-year exile. The occasion is commemorated with the celebration of Diwali.
PM Modi is scheduled to arrive for the Ravan Dahan in Dwarka at around 5:30 pm. Shortly after his arrival, the Prime Minister would complete the symbolic ceremony of setting the effigies on fire.
Watch PM Narendra Modi Burning Ravana Effigy on Dussehra 2019:
On the occasion of Vijayadashami, Prime Minister Modi wished the nation earlier in the day. He extended his greetings to all residents on the auspicious day. President of India, Ram Nath Kovind also shared his warm greetings on Vijayadashami. "Greetings and good wishes to fellow citizens on Dussehra. The festival is a celebration of the victory of good over evil. It inspires us to live by honesty and truthfulness. May the day bring joy and prosperity to the people of the country," he said.