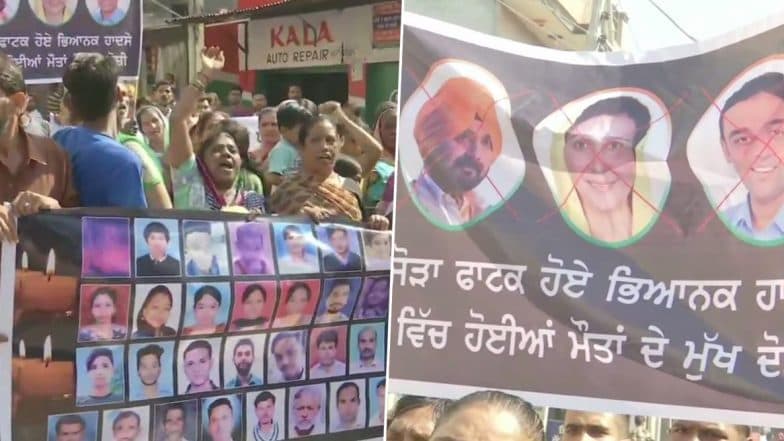 Amritsar, October 8: Families of the victims of 2018 Amritsar train accident took out a protest march in Amritsar on Tuesday. Last year on the festival of Dussehra, scores of people were killed after a train run over them while they were watching the burning Ravan effigy standing at the railway track in Punjab's Amritsar. "It has been a year but justice has not been meted out to us yet. So we are going to sit on protest on railway track. We had to do several rounds of offices the entire year," one of the protestors was quoted saying by news agency ANI. The incident took place on October 19. Amritsar Train Accident: Several Watching Ravan Dahan at Joda Phatak Run Over by Train, At Least 60 Feared Dead.
On Monday, SAD leader and former Punjab minister Bikram Singh Majithia here on Monday alleged that Congress government has failed to fulfill its promise to give jobs and compensation to the kin of victims. Amritsar Train Accident: No 'Temporary Caution Order' Was Issued to Alert Loco Pilot About Ravan Dahan Event Near Tracks.
"Be it poor or rich all are same. I am with them in their candle march as they have not been given justice. The Congress government failed to give them jobs that it promised. It also failed on its promise to adopt the children who lost their parents in the tragic accident," said Majithia while taking part in candle march by the family members of the victims.
At least 60 people were killed at the Dhobi Ghat ground in Choura Bazar near Jhoda Phatak area in Amritsar on October 19 last year after a speeding train ran over a crowd of Dussehra revellers, which had spilled onto the railway tracks, while watching the burning of a Ravana effigy. (With PTI Inputs)