The Ganeshotsav festival has begun today. But along with Ganesh Chaturthi, it is also the last day of the Paryushana festival observed by the people of the Jain community. This day is known as Samvatsari and it falls on Shukla Panchami in the calendar month of Bhadrapada ie on September 13. On this day, all Jains forgive and seek forgiveness in return from their family, friends and neighbours by uttering the words, "Michhami Dukkadam." The phrase for forgiveness is also called "Khamau Sa", "Uttam Kshama" or "Khamat Khamna". The people forward greetings and messages seeking forgiveness for their wrongdoings over the past year. Paryushana Parva 2018 Date: Know History, Significance And Fasting Rules of The Jain Festival Of Forgiveness. 
Significance of Micchami Dukkadam
Micchami Dukkadam is an ancient Indian phrase which is translated from Prakit. The literal meaning of the phrase is 'may all the evil that has been done be fruitless.' While the phrase is used even throughout the year when a person makes a mistake or seeks forgiveness, it is widely used on Samvatsari. The people of Jain community seek forgiveness from everyone, including the creatures who they may have caused harm knowingly or unknowingly. The word comes from Prakrit language, a middle Indo-Aryan language. In Sanskrit, the words mean, 'may my misdeeds be undone.'
When a person wishes Micchami Dukkadam, it means there will no personal quarrel that will be carried beyond this day.  In the olden days, people used to write letters or make phone calls to seek forgiveness. Now with the advent of technology, we have WhatsApp messages, images and SMSes to wish each other on the occasion.
Micchami Dukkadam Greetings and Messages you can send to your friends and family: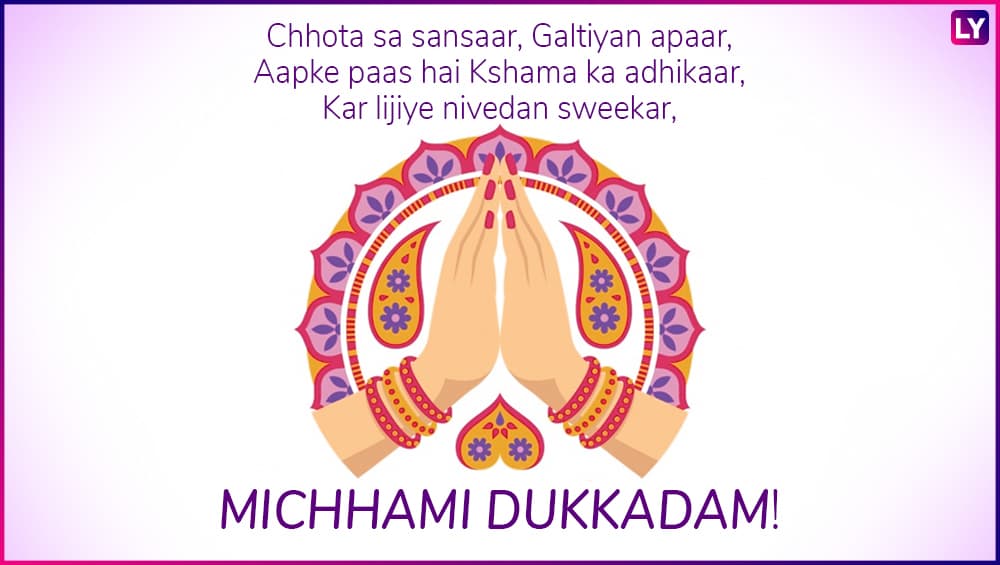 Message reads: Chhota sa sansaar, Galtiyan apaar, aapke paas hai Kshama ka adhikaar, Kar lijiye nivedan sweekar, MICHHAMI DUKKDAM!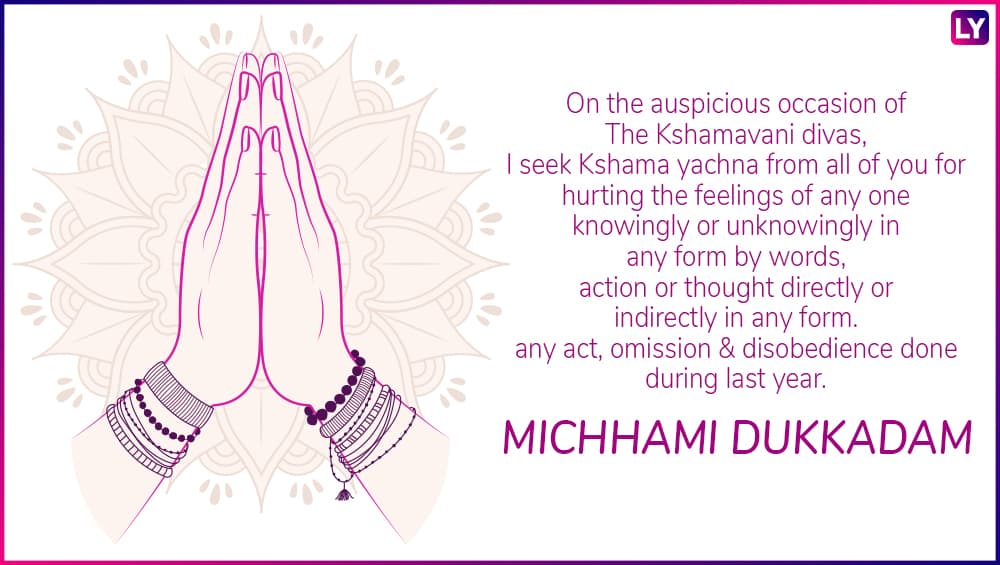 Message reads: On the auspicious occasion of The Kshamavani divas, I seek Kshama yachna from all of you for hurting the feelings of any one knowingly or unknowingly in any form by words, action or thought directly or indirectly in any form. any act, omission & disobedience done during last year.
Message reads: On this Holy Day of Mahaparva Parsyushan, May I Ask for Your Forgiveness If Knowingly or Unknowingly I where Wrong On Our Deed, Word, or Action. MICHAMI DUKKADAM.
This day is the holiest days of the Jain calendars and many people from the community observe a complete fast to mark this day. They break the fast on the next day with breakfast which is called as Parna. It is a very significant day for the Swetambar sect of the Jain community.