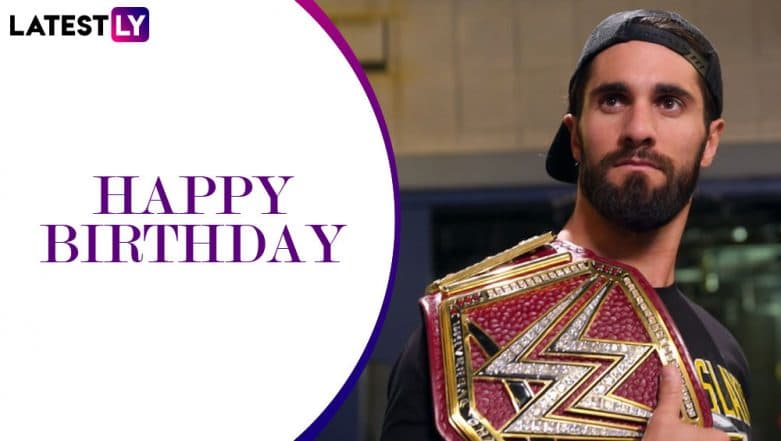 Seth Rollins will turn 33 years old on May 28, 2019. Rollins is the current WWE Universal Champion, as he defeated Brock Lesnar, the former champion at WrestleMania 35. On the occasion of Seth Freakin Rollins birthday, let us explore his diet and workout which makes him a world class wrestler. WWE Raw April 29, 2019 Results and Highlights: Seth Rollins and AJ Styles Brawl After Signing Contract for WWE Universal Championship Match at Money in the Bank PPV (Watch Video).
Rollins real name is Colby Lopez. He is currently the part of Monda Night Roster. Seth Rollins made his debut at the Survivor Series 2012 alongside Dean Ambrose and Roman Reigns, as a part of the faction known as The Shield. Rollins has also won World Heavyweight Championship belt twice along Intercontinental Championship and US title twice. WWE Money in the Bank Results and Highlights: Bayley is SmackDown Women's Champion, Brock Lesnar Returns to Win MITB Ladder Match (Watch Videos and Pics)
Seth Rollins Workout
Seth Rollins workout five times in a week and rest twice in a week. He gave a break on the third and seventh day of his training. Rollins trains his entire body every day, unlike other wrestlers who train their individual muscles separately. His training majorly involves Olympic weightlifting exercises like snatches, clean and jerk. Apart from that he also does heavy squats and CrossFit exercises like kettlebell swings, box jump, burpees and muscle-up. He trains with the intention to increase endurance, strength and power.
Like other wrestlers, Rollins ensures that he has strong leg muscles. He performs heavy squats both front and back. He also performs walking lunges of 50 steps at a time. The most important part of his training is a long intense warm-up before every workout, which most usually avoid. This includes exercises like a jumping jack, bodyweight squat, side lunges, backward skipping, etc.
Seth Rollins' Superhuman Workout
Seth Rollins Performing Power Snatch!!!
Seth Rollins Diet
Seth Rollins enjoys eating a full-fledged healthy meal, which is balanced with all nutrients. He loves eating meats and red meats in particular. Rollins mostly avoids eating unhealthy food, however, he does cheat in a while where he eats giant pizza and ice cream. Seth does not give weight age to supplements but he thinks they are important sometimes. He takes supplements when he is not able to derive enough protein or carbohydrates from the outside food.
Seth Rollins currently defended his Universal Championship belt against AJ Styles at Money in the Bank Pay Per View. However, his Universal Championship belt is in threat, as Brock Lesnar has recently won the Money in the Bank ladder match, which he can cash in anytime.